Publication:
Análisis y estructura de las fuentes de inspiración, de los aspectos históricos, narrativos, productivos, artísticos, simbólicos y tecnológicos en la edad de oro de los largometrajes de Walt Disney Studios (1937-1942)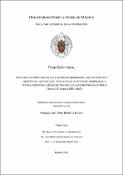 Files
Authors
Advisors (or tutors)
Editors
Publisher
Universidad Complutense de Madrid
Abstract
Esta tesis doctoral se realizará bajo la mirada de los orígenes, influencias y aportaciones que la obra cinematográfica de Walt Disney en su periodo dorado (1937-1942) realizó al mundo de la animación, y a la evolución de esta técnica cinematográfica. Utilizando un método de análisis cualitativo, este se radicará en entender los factores que impulsaron al creador norteamericano a desarrollar la técnica de la animación, analizando cuales fueron sus fuentes de inspiración, influencias de otros autores ajenos al mundo de la animación, y estructurando un análisis contextual y narrativo comparativo, se desglosará los aspectos claves de su obra. Permanece como referente para otros autores, no solo en el campo de la animación, como para el director soviético Sergei Mikhailovich Eisenstein que el 16 de noviembre de 1941 declaró "El trabajo de este maestro es la mayor contribución del pueblo estadounidense al arte" (Leyda, 2017, p. 3). Pionero con el primer largometraje en dibujo animado, Disney rompió barreras y adoptó métodos narrativos inspirados en los cuentos tradicionales, basándose en la estructura narrativa propuesta por Seymour Chatman, Joseph John Campbell y Christopher Vogler, desarrollando las características de las Esferas de Acción en la obra de Vladimir Yakovlevich Propp.
This doctoral thesis will be carried out under the gaze of the origins, influences, and contributions that the cinematographic work of Walt Disney in its golden period (1937-1942) made to the world of animation, and to the evolution of this cinematographic technique. Using a qualitative analysis method, this will be based on understanding the factors that prompted the North American creator to develop the animation technique, analyzing what were his sources of inspiration, influences from other authors outside the world of animation, and structuring an analysis contextual and comparative narrative, we will break down the key aspects of his work. It remains a reference for other authors, not only in the field of animation, such as for the Soviet director Sergei Mikhailovich Eisenstein who on November 16, 1941, declared "The work of this master is the greatest contribution of the American people to art" (Leyda, 2017, p 3). Pioneer with the first animated feature film, Disney broke barriers and adopted narrative methods inspired by traditional tales, based on the narrative structure proposed by Seymour Chatman, Joseph John Campbell, and Christopher Vogler, developing the characteristics of the Spheres of Action based on the work of Vladimir Yakovlevich Propp.
Description
Tesis inédita de la Universidad Complutense de Madrid, Facultad de Ciencias de la Información, leída el 28-06-2022
Collections