Publication:
El tabaquismo en los trabajadores sanitarios : perspectiva desde el Hospital Clínico San Carlos de Madrid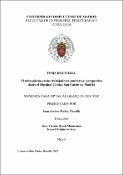 Files
Authors
Advisors (or tutors)
Editors
Publisher
Universidad Complutense de Madrid
Abstract
Ante la magnitud de los problemas de salud que genera el tabaquismo, se vienen tomando múltiples iniciativas políticas y sanitarias. Aunque se han conseguido avances, el consumo de tabaco sigue produciendo estragos sanitarios y sociales. En este contexto, los profesionales de salud deberían ser un vector ejemplarizante. Este sector dela población merece un estudio específico por sus propias características y por su especial relación con los usuarios de los sistemas sanitarios. El objetivo de este estudio ha sido analizar y evaluar, con perspectiva longitudinal, las políticas y acciones que se han puesto en marcha para luchar contra el tabaquismo en la Comunidad de Madrid y particularmente en el Hospital Clínico San Carlos, así como estudiar el impacto de las distintas medidas tomadas y los hitos alcanzados en la gestión del tabaquismo, principalmente, entre los trabajadores de este centro sanitario. Material y método: Estudio basado en revisión bibliográfica narrativa y legislativa, apoyada en pesquisa historiográfica. El rango de fechas del estudio, abarca desde el final de la década de los años 80 del siglo pasado, hasta el año2020. Para la realización de esta investigación se han utilizado diferentes grupos de fuentes, tanto científicas, como de organismos oficiales, así como documentos divulgativos de diferentes orígenes. Con carácter prioritario, se han rastreado múltiples documentos producidos por el Hospital Clínico San Carlos relacionados con el tabaquismo...
In the face of the magnitude of health problems caused by smoking, a large number of both healthcare and politics measures are being made. Even after significative advances have been achieved, tobacco consumption continues ravaging the society. In this context, healthcare professionals should be an exemplary vector. Due to its features and tothe direct connection with healthcare users, this sector needs a specific study. The objective of this work is to study the actions and politics measures which have been made to fight tobacco use in the Comunidad de Madrid and particularly in the Hospital Clínico San Carlos. More specifically, this work analyze the impact in the health staff of the measures taken and the achieved milestones of tobacco use management. Materials and Methods: This work is supported on diverse bibliographic sources, including legislative and narrative, developed by research of historiographic material published between late 80s of the last century to 2020. The list of bibliographic sources include scientific, official bodies, and informative documents and publications, with particular priority to material related to tobacco use produced by the Hospital Clínico San Carlos...
Description
Tesis inédita de la Universidad Complutense de Madrid, Facultad de Enfermería, Fisioterapia y Podología, leída el 30-05-2022
Collections