Publication:
Análisis y perspectivas de la contratación administrativa en el sector de la defensa : el contrato gobierno a gobierno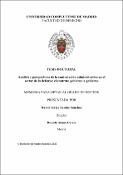 Files
Authors
Advisors (or tutors)
Editors
Publisher
Universidad Complutense de Madrid
Abstract
La presente tesis doctoral, que lleva por título «Análisis y perspectivas de la contratación administrativa en el sector de la defensa: el contrato Gobierno a Gobierno», tiene por finalidad realizar un estudio detallado de la actividad contractual que desarrollan los Estados en el ámbito de la defensa, partiendo de la premisa de que la defensa nacionales un fin constitucional del Estado, dirigida a garantizar su propia supervivencia, al cual deben supeditarse los distintos instrumentos jurídicos puestos a su servicio. De este modo, se procede a un análisis de la configuración de la defensa nacional en la Constitución española, de una manera amplia y no limitada a su instrumento fundamental, las Fuerzas Armadas, destacando su conceptuación como una competencia exclusiva del Estado, su carácter transversal en cuanto implica a todos los poderes públicos y a los ciudadanos, así como su capacidad limitadora de los derechos e intereses, públicos y privados, incluidos los derechos fundamentales y libertades públicas. Asimismo, se analizan las características específicas del mercado en el que se intercambian los bienes y servicios destinados a satisfacer las necesidades esenciales dela defensa nacional, atendiendo a las singularidades de los sujetos que contratan, los Estados, bien directamente o a través de la cooperación en Organizaciones Internacionales de Seguridad y Defensa; de los sujetos que los producen, integrados en la denominada industria de defensa, con un alto valor estratégico y tecnológico; y de los objetos de comercio, constituido principalmente por sistemas de armas, plataformas y derechos de propiedad intelectual e industrial. Todo ello con el objeto de demostrar que el mercado de defensa es un mercado sometido a reglas especiales, derivadas, entre otras circunstancias, de la concurrencia de los distintos ordenamientos jurídicos aplicables...
The purpose of this doctoral thesis, entitled "Analysis and perspectives of administrative contracting in the defence sector: the Government to Government contract", is to carry out a detailed study of the contractual activity developed by States in the field of defence, starting from the premise that national defence is a constitutional aim of the State, aimed at guaranteeing its own survival, to which the different legal instruments placed at its service must be subordinated. In this way, an analysis is made of the configuration of national defence in the Spanish Constitution, in a broad mannerand not limited to its fundamental instrument, the Armed Forces, highlighting its concept as an exclusive competence of the State, its transversal nature in that it involves all public powers and citizens, as well as its capacity to limit public and private rights and interests, including fundamental rights and public liberties. It also analyses the specific characteristics of the market in which goods and services destined to satisfy the essential needs of national defence are exchanged, taking into account the singularities of the subjects that contract, the States, either directly or through cooperation in International Security and Defence Organisations; of the subjects that produce them, integrated in the so-called defence industry, with a high strategic and technological value; and of the objects of trade, consisting mainly of weapons systems, platforms and intellectual and industrial property rights. The purpose of all this is to demonstrate that the defence market is a market subject to special rules, derived, among other circumstances, from the concurrence of the different applicable legal systems...
Description
Tesis inédita de la Universidad Complutense de Madrid, Facultad de Derecho, leída el 01-07-2022
Collections