Publication:
Dispositivos de vidrios mesoporosos bioactivos enriquecidos con iones biológicamente activos para el tratamiento de defectos e infecciones óseas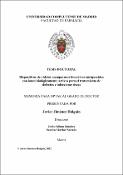 Files
Authors
Advisors (or tutors)
Editors
Publisher
Universidad Complutense de Madrid
Abstract
El envejecimiento poblacional es un proceso que se está acentuando con el paso de los años. Los resultados presentados por la Oficina Europea de la Estadística pronosticaron que para el año 2050, el 30% de la población tendrá más de 65 años y esto conlleva a una elevada tasa de afecciones óseas como fracturas, defectos óseos, osteoporosis e infecciones óseas que necesitan de intervención una intervención quirúrgica. El procedimiento para tratar dichas afecciones consiste en realizar autoinjertos o bien implantar aleaciones metálicas recubiertas de diversos compuestos. Sin embargo, los implantes autólogos generan morbilidad en la región donadora y los implantes metálicos se contaminan fácilmente durante la cirugía, desembocando en procesos de infección en un tejido difícilmente tratable con antibióticos convencionales. En los peores casos, se pueden desarrollar resistencia frente a dichos fármacos. Ante tal necesidad, la ingeniería ha presentado materiales sintéticos alternativos con este fin, como son los materiales poliméricos, cerámicas, metálicos o materiales compuestos. Durante la tesis, se han desarrollado cuatro biomateriales con el objetivo de abordar diferentes escenarios, pero con una base fundamental: promover la regeneración del tejido óseo y aplicar un tratamiento combinado que prevenga procesos de osteomielitis, el desarrollo de resistencias a fármacos y elimine poblaciones bacterianas tanto en estado planctónico como en biofilms. Todas las alternativas se basan en el empleo de biocerámicas conocidas como vidrios mesoporoso bioactivos (MBG) del sistema SiO2ꟷP2O5ꟷCaO. Esta familia de materiales está ampliamente reconocida por la comunidad científica en el ámbito de los biomateriales, como uno de los candidatos más prometedores dentro de los materiales propuestos para la sustitución de tejido óseo. Los materiales descritos en este trabajo tienen en común la estrategia de enriquecerlos con iones metálicos terapéuticos con propiedades osteogénicas y/o antibacterianas, como son el estroncio, zinc o el cobre...
Population aging is a process that is becoming more pronounced as the years go by. The results presented by the European Statistical Office predicted that by the year 2050, 30% of the population will be over 65 years of age and this leads to a high rate of bone conditions such as fractures, bone defects, osteoporosis and bone infections that require surgical intervention. The procedure to treat these conditions consists of performing autografts or implanting metal alloys coated with various compounds. However, autologous implants generate morbidity in the donor region and metallic implants are easily contaminated during surgery, leading to tissue infections that are difficult to treat with conventional antibiotics. In the worst cases, resistance to these drugs can develop.Faced with this need, engineering has presented alternative synthetic materials for this purpose, such as polymeric materials, ceramics, metallic or composite materials.During the thesis, four biomaterials have been developed with the aim of addressing different scenarios, but with a fundamental basis: to promote the regeneration of bone tissue and to apply a combined treatment that prevents osteomyelitis processes, the development of drug resistance and eliminates bacterial populations both in planktonic state and in biofilms. All the alternatives are based on the use of bioceramics known as mesoporous bioactive glasses (MBG) of the SiO2ꟷP2O5ꟷCaO system. This family of materials is widely recognized by the scientific community in the field of biomaterials as one of the most promising candidates among the materials proposed for the replacement of bone tissue. The materials described in this work have in common the strategy of enriching them with therapeutic metal ions with osteogenic and/or antibacterial properties, such as strontium, zinc or copper...
Description
Tesis inédita de la Universidad Complutense de Madrid, Facultad de Farmacia, leída el 30-06-2022
Collections