Publication:
Los Insurgentes de Mezcala (1812-1816). Recreación de un conflicto bicentenario en México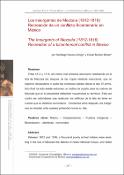 Advisors (or tutors)
Editors
Abstract
Entre 1812 y 1816, mil indios mal armados estuvieron resistiendo en la Isla de Mezcala los ataques de las tropas realistas mexicanas, que no lograron desalojarlos ni evitar las continuas salidas desde la isla. El armisticio final ha sido desde entonces un motivo de orgullo para los nativos de Mezcala que en la actualidad defienden nuevamente su territorio. Esta vez contra las autoridades que restauran los edificios de la Isla sin tener en cuenta que es territorio comunitario. Doscientos años después, los indígenas se rebelan ante quienes pretenden tomar su isla.[ABSTRACT]Between 1812 and 1816, a thousand poorly armed Indians were resisting in the Isle of Mezcala the attacks of realist Mexican troops, who failed to dislodge or prevent the continuous departures from the island. The final armistice has since been a source of pride for native Mezcalan, who currently defend their territory again. This time is against the authorities who restore the buildings of the island without taking into account that is Community territory. Two hundred years later, the Indians rebel against those who seek to make their island.
Collections