Publication:
Las coordenadas ganaderas de Felipe III y la quimera de la Mesta con el libro de leyes de 1609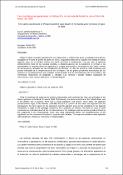 Authors
Advisors (or tutors)
Editors
Abstract
Felipe III siguió la política ganadera de sus antecesores y confirmó las leyes y privilegios de la Mesta, recogidos en el Libro de Leyes de 1609. En teoría, el aparato jurídico de la Cabaña Real estaba en plena vigencia, pero, en la práctica, existía una fuerte oposición y contestación. Una vez más, el aparente proteccionismo regio de los Austrias ocultaba la despreocupación por la ganadería, el rechazo a las prerrogativas, el respaldo tácito a la agricultura y la atención prestada a las quejas en las Cortes, a pesar de los perjuicios causados por las Condiciones de Millones. El Libro de Leyes de 1609 constituye una prueba irrefutable de la inobservancia de los privilegios y de los graves problemas encontrados por los pastores en la trashumancia, pues estaban desamparados ante el incumplimiento de la normativa y las numerosas infracciones en pastizales y cañadas. Los caminos y prados estaban salpicados de roturaciones, cotos, nuevos impuestos o prendas ilegales. [ABSTRACT]Philip III continued the cattle politic of their predecessors and confirmed the laws and privileges of the Mesta, gathered in the Book of Laws of 1609. Theoretically, the juridical machine of the Cabaña Real was in full validity, but, in practice, there was a strong opposition and answer. Once again, the apparent proteccionismo regio of the Austrias concealed the lack of concern for the cattle, the rejection from the prerogatives, the tacit support to the agriculture and the attention given to the complaints in the Spanish Parliament, in spite of the damages caused by the Conditions of Millions. The Book of Laws of 1609 constitutes an irrefutable proof of the non-observance of the privileges and the serious problems found by the shepherds in the trashumancia, since they were abandoned before the nonperformance of the regulation and the numerous infractions in pastures and cañadas. The ways and meadows were splashed with ploughings, preserves, new taxes or illegal pledges.
Citation
LE FLEM, J.P., 1972. "Las cuentas de la Mesta (1510-1709)", Moneda y Crédito, nº 121, pp. 23-104. MANGAS NAVAS, J.M., 1981. El régimen comunal agrario en los concejos de Castilla. Madrid. MARÍN BARRIGUETE, F., 1998. "Fiscalidad y Mesta: las repercusiones del Servicio de los Ocho Millones de ducados", en MARTÍNEZ MILLÁN, J. (dir). Europa dividida: la Monarquía Católica de Felipe II, Madrid, pp. 553-571. MARIN BARRIGUETE, F., 1998. "El lento declinar de la Mesta en el reinado de Felipe II: la conflictividad en el campo y en las Juntas Generales", en Las sociedades ibéricas y el mar a finales del siglo XVI, Madrid, pp. 67-114. MARÍN BARRIGUETE, F., 1990. "Las Cortes y el Honrado Concejo de la Mesta: capítulos y condiciones frente a privilegios cabañiles (1600-1650)", en Historia de las Cortes de Castilla y León, I, Valladolid, pp. 511-527. MARÍN BARRIGUETE, F. 1999. "Oligarquías ganaderas y Mesta en el siglo XVI", Cuadernos de Investigación Histórica, vol. 17, pp. 133-153. MARÍN BARRIGUETE, F. 1995. "Análisis institucional del Honrado Concejo de la Mesta: los alcaldes de cuadrilla, ss. XVI-XVII", Cuadernos de Historia Moderna, nº 16, pp. 34-66. MARÍN BARRIGUETE, F., 1998. "La posesión y la lucha por los pastizales en los siglos XVIXVII", en RUIZ MARTÍN, F. y GARCÍA SANZ, A. (eds): Mesta, trashumancia y lana en la España Moderna, Barcelona, pp. 90-143. NIETO, A., 1964. Bienes comunales, Madrid.