Publication:
El microcrédito como instrumento de financiación al servicio de las entidades de economía social. Especial referencia al instrumento europeo de microfinanciación Progress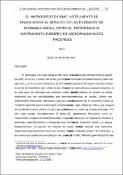 Authors
Advisors (or tutors)
Editors
Publisher
Facultad de Ciencias Económicas y Empresariales. Escuela de Estudios Cooperativos
Abstract
El panorama, tres años después del inicio de la crisis financiera internacional en agosto de 2007, no es muy distinto del inicial, por lo que la denominada microfinanciación puede dar algo de luz en el sombrío entramado de la financiación empresarial. El objetivo de este trabajo es poner de manifiesto que, si bien la microfinanciación es esencial para cualquier empresa, lo es más para las entidades de economía social dadas las dificultades de acceso al crédito tradicional por las peculiaridades que presenta su estructura de capital. Contar con instrumentos financieros adecuados para las empresas del sector de la economía social es condición esencial para el crecimiento económico que nos haga sortear la crisis y que asegure el cumplimiento de la política social a que están llamadas a cumplir las citadas entidades. Por ello cabe acoger favorablemente el desarrollo de instrumentos financieros como el "instrumento europeo de microfinanciación Progress", aprobado por el Parlamento europeo y destinado específicamente a microempresas del sector de la economía social y a grupos desfavorecidos. La puesta en marcha de estos microcréditos precisa una estructura organizativa que permita procesar de manera normalizada un elevado número de solicitudes, y esa estructura puede ser prestada por las cooperativas de crédito. Resulta generalizada la idea de que el origen del microcrédito se sitúa en la creación del Grameen Bank, pero existen antecedentes, tanto en España como en otros países europeos, que sitúan al instrumento financiero del microcrédito en el origen del nacimiento de las cooperativas de crédito, por lo que la experiencia pasada puede ser aplicada al momento actual.
Three years after the financial crisis had started in August 2007, the fact is that the situation goes on being the same in general terms. For that reason, the so-called microfinanciation could clarify, at least to a certain extent, all the doubts concerning management financiation. The real aim of this project is to make evident the fact that microfinanciation is on the one hand essential for any kind of firm, but on the other hand, it is even more necessary for all those entities dealing with social economy if we take into account the difficulties of access to the traditional way of asking for a credit due to the special peculiarities that its structure of capital shows. Having at our disposal the adequate financial instruments for the companies within the scope of social economy is an essential condition for the economic growth that enables us to overcome the crisis and at the same time it can grant the fulfilment of the social politics that the previously mentioned entities are supposed to have been created for. Bearing in mind all the aspects that have already been taken into consideration, it would be logical to accept the development of financial instruments such as the "European instrument of microfinanciation Progress", that has been approved by the European Parliament and that is specifically intended to be used by microcompanies within the ambit of social economy and by disfavoured groups. The starting point of these microcredits needs an organized structure that allows us to process a considerable number of requests and that structure can be provided by credit co-operatives. It seems to be a generalized opinion the fact that the origin of the microcredit is situated in the creation of the Grameen Bank but there are antecedents not only in Spain but in other European countries as well, that place this financial instrument _the microcredit_ in the origin of the birth of credit co-operatives. For that reason, the past experience can really be applicable to the present moment.
Citation
ALFONSO SÁNCHEZ, R.: «La legislación española sobre cooperativas y sociedades laborales: ¿una respuesta adecuada a las necesidades del sector? en CIRIEC-España, Revista Jurídica de Economía Social y Cooperativa, nº 20, 2009. ANG, J.S.: «Small Business Uniqueness and the theory of financial Management», Journal of Small Business Finance, vol. 1. nº.1,1 991, págs. 1 al 12. BAHÍA ALMANSA, B.: «El microcrédito como instrumento al servicio de la responsabilidad social corporativa en el ámbito de las cooperativas de crédito», en Actas 27 Congreso Internacional CIRIEC, Sevilla, 2008. BOEDO, L. y CALVO, A.R.: «Un modelo de síntesis de los factores que determinan la estructura de capital óptima de las PYMES», en Revista Europea de Dirección y Economía de la empresa, vol.6 nº 1,1997,págs 107 a 124. COSH, A.D y HUGHES, A: «Size financial structure and profitability», en HUGHES, A. y STOREY, D.J. (eds.): Finance and the Small firm, Routledge, London, 1994. ESTRADA, A y VALLÉS, J.: «Investment and Financial Structure in Spanish Manufacturing Firms», Investigaciones económicas, vol. 22, nº 3, 1998, págs. 337 a 359. GADEA, E., SACRISTAN, F. y VARGAS VASSEROT, C.: Régimen jurídico de la Sociedad Cooperativa del siglo XXI. Realidad actual y propuestas de reforma, Dykinson, 2009. GIBSON, B.: «Financial Informacion for Decision-Making: An alternative Small firm Perspective», Journal of Small Business Finance, vol. 1, nº 3, 1992, págs 221 a 232. HAMILTON, R.T. y FOX, M.A.: «The financing preferences of small firm owners», International Journal of Entrepreneurial Behaviour & Research, vol.4, nº. 3, 1998, págs. 239 a 248. LÓPEZ, J., RIAÑO, V. y ROMERO, M.: «Restricciones financieras y crecimiento: el caso de la pequeña y mediana empresa», en Revista española de Financiación y Contabilidad, vol. 28, nº 99, 1999, págs. 349 a 382. MAROTO ACÍN, J.A: «Estructura financiera y crecimiento de las pymes», Economía Industrial, nº. 310, 1996, págs. 29 a 40. MARTÍN LÓPEZ, S., GARCIA-GUTIÉRREZ FERNÁNDEZ, C. y LEJARRIAGA PÉREZ DE LAS VACAS, G.: «Las dificultades de financiación de las empresas de participación ante la crisis económica: la creación de una entidad financiera de crédito como alternativa», en REVESCO nº 100-Extraordinario, Monográfico: la respuesta de la Economía Social ante una crisis global, 2010. OCAÑA, C., SALAS, V. y VALLÉS, J.: «Un análisis empírico de la financiación de la pequeña y mediana empresa manufacturera española:1983-1989», Moneda y Crédito, nº. 199, 1994, págs. 57 a 96. PERES MONTEVERDE, M.V.: «La política financiera de las Pymes. La influencia del incentivo fiscal de la reserva para inversiones», en Revista de Contabilidad y Tributación, nº 328, julio 2010, pág. 91 a 124. REID, G.: Small business enterprise: an economic analysis, Routledge, London, 1993 S. DE MIRANDA, J. E.: La financiación de las sociedades cooperativas: un análisis de la ley española y de Euskadi, de cooperativas, en http://jus2.uol.com.br/doutrina/texto.asp?, 2004. SANCHÍS PALACIO, J. R y SORIANO HERNÁNDEZ, J.F: «Análisis empresarial y situación actual de las secciones de crédito de las cooperativas agrarias de la Comunidad Valenciana», en Revista Valenciana D`Estudis Autonomics, nº 26, primer trimestre 1999. SANCHÍS PALACIO, J. R: El crédito Cooperativo en España, CIRIEC España, Valencia 1997 STOREY, D.: Understanding the small firm sector, Routledge, London, 1994.
Collections