Publication:
La contribución de las cooperativas de ahorro y crédito al desarrollo local en Queretaro, Mexico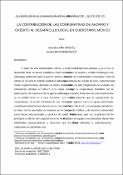 Advisors (or tutors)
Editors
Publisher
Facultad de Ciencias Económicas y Empresariales. Escuela de Estudios Cooperativos
Abstract
A partir de una aproximación teórica y empírica a las empresas sociales y su rol en el desarrollo local, se buscó establecer cómo las cooperativas de ahorro y crédito constituyen una estrategia pertinente para el avance social y económico de las comunidades mexicanas. Para tal efecto se recurrió al método cualitativo utilizando la estrategia de estudio de caso, seleccionando cuatro organizaciones ubicadas en zonas clasificadas como de alta marginación de acuerdo con indicadores oficiales en México. Los casos corresponden a cooperativas fundadas con la participación de miembros de la iglesia católica y cuya actividad financiera ha sido fundamental en el ámbito local en el que funcionan. Los resultados muestran que la organización de cooperativas, la acción voluntaria de sus miembros y en algunos casos el apoyo del Estado, constituyen instrumentos eficaces en la promoción del desarrollo local. Los principales beneficios en favor de los asociados se traducen en el otorgamiento de créditos y de servicios adicionales como becas educacionales y servicios de salud. Pudo constatarse, que con la práctica de los principios y valores del cooperativismo se facilita el trabajo en equipo y los asociados desarrollan habilidades emprendedoras y directivas que los benefician individual y colectivamente mejorando su calidad de vida.
From an empiric and theoretical approach to the social enterprises and its role at the local development, it was sought to establish how the credit and saving cooperatives are a pertinent strategy for the economic and social advance from the Mexican communities. For this purpose the qualitative method was used to utilize the study case strategy; it were selected four organizations located in classified areas as high marginalization according to the official Mexican indicators. The cases are cooperatives founded with the participation from members of the Catholic Church and whose financial activity has being fundamental at their local scope. The results demonstrate that the organization of cooperatives, the voluntary action from his members and in some cases the state support are effective tools at the local development promotion. The main benefits for the members are translated in the grant credits and additional services as educative scholarships and health services. It was verified that with the practice of the principles and cooperatives values facilitate the teamwork and the members develop entrepreneurial skills and directives that individually and collectively benefits them, improving their quality of life.
Citation
ALBURQUERQUE, Francisco. Desarrollo económico local y descentralización en América Latina. Revista Cepal [en línea], núm. 82, 2004, p. 157-171 [23/11/2009]. Disponible en Internet: http://www.eclac.org/cgibin/getProd.asp?xml=/revista/noticias/articuloCEPAL/3/19413/P19413.xml&xsl=/revista/tpl/p39f.xsl&base=/revista/tpl/top-bottom.xslt. ISSN 1682 - 0908. AMEALCO DE BONFIL. Datos generales y demográficos, 2005. Disponible en Internet: http://queretaro.gob.mx/sedesu/deseco/esteco/perfeco/municipios/amealco.htm. [30/01/2008]. ANZALDO, Carlos y Minerva PRADO. Índices de marginación 2005. Disponible en Internet: http://www.conapo.gob.mx/publicaciones/margina2005/01_b.pdf. 1ª ed. México: CONAPO, 2005, páginas 1-51. ISBN: 970-628-847-3. AROCENA, José. El desarrollo local. Un desafió contemporáneo. 1ª ed. Venezuela: Editorial Nueva Sociedad, 1995. 175 páginas. ISBN 9789803170776. BANCO DE MÉXICO. Reporte sobre el Sistema Financiero, junio de 2010. Noviembre 2010. Disponible en Internet: http://www.banxico.org.mx/dyn/publicaciones-ydiscursos/publicaciones/informes-periodicos/reporte-sf/%7BDC37ABCB-26F0-020D-145B-5CF397D62E68%7D.pdf. [20/10/2010]. BANCO MUNDIAL. Censo de las Sociedades con Actividades de Ahorro y Crédito Popular, Octubre de 2001 – Junio de 2002. Resumen Ejecutivo World Bank – Bansefi. Disponible en Internet: http://www.bansefi.mx. Fecha de consulta. [13/06/2003]. CAMPOY LOZAR, Margarita. Marginación y Pobreza. Revista del Ministerio de Trabajo y Asuntos Sociales [en línea], núm. 35, 2002, p. 67-82 [20/07/2009]. Disponible en Internet: http://www.mtas.es/Publica/revista/numeros/35/estudio4.pdf. ISSN 1137-5868. CÁRDENAS, Nersa. El desarrollo local su conceptualización y procesos. Revista Provincia [en línea], núm. 008, enero-junio 2002, p. 53-76 [20/09/2009]. Disponible en Internet: http://redalyc.uaemex.mx/redalyc/src/inicio/ArtPdfRed.jsp?iCve=55500804. ISSN 1317-9535. COMISIÓN NACIONAL BANCARIA Y DE VALORES. Las ventajas de la LRASCAP y el sentido de la regulación prudencial. Enero 2010. Disponible en Internet: http://www.cnbv.gob.mx/sectorpopularuc/EstudiosyAcceso/Lista%20SOCAP%20Estudios/20100127%20SACP.pdf. [24/10/2010]. CONEVAL. Comunicado Núm. 006/09. Reporta CONEVAL cifras de pobreza por ingresos 2008. Disponible en Internet: http://www.coneval.gob.mx/coneval2/htmls/sala_prensa/HomeSalaPrensa.jsp?id=estimaciones_de_pobreza_por_ingresos_2008. [06/07/2009]. DGRV. The history of cooperatives 2009. Disponible en Internet: http://www.dgrv.de/en/cooperatives/historyofcooperatives.html. [30/06/2009]. DICCIONARIO DE LA LENGUA ESPAÑOLA. Definición de local. Vigésima segunda edición (2001) [en línea]. Disponible en Internet: http://buscon.rae.es/draeI/. ENCICLOPEDIA DE LOS MUNICIPIOS DE MÉXICO. Municipios de Querétaro, 2009. Disponible en Internet: http://www.e-local.gob.mx/wb2/ELOCAL/EMM_queretaro. [15/03/2009]. ESTIMACIONES DEL CONAPO CON BASE EN EL II CONTEO DE POBLACIÓN Y VIVIENDA 2005 Y ENCUESTA NACIONAL DE OCUPACIÓN Y EMPLEO 2005 (IV Trimestre). Disponible en Internet: www.conapo.gob.mx/publicaciones/margina2005/AnexoB.xls. [10/02/2008]. GOLDIN, Ian y Kenneth REINERT. Globalización para el Desarrollo. 1ª ed. Colombia: Editorial Planeta, 2007. 379 páginas. ISBN 9789584215147. JÁUREGUI, Luis. "Las reformas borbónicas", en Nueva Historia Mínima de México, Daniel Cosío Villegas (coord.) 5ª ed. México: El Colegio de México, 2008. 315 pág. ISBN: 9681211391. LAFLEUR, Michael. Desarrollo económico y cooperativas: Un modelo de gestión alternativa. Universidad de Sherbrooke 2005. Documento interno. Agence Canadienne de Développement International. [01/08/2005]. LEY PARA REGULAR LAS ACTIVIDADES DE LAS SOCIEDADES COOPERATIVAS DE AHORRO Y PRÉSTAMO. Congreso de la Unión. 13 de agosto de 2009. Disponible en Internet: [24/10/2009]. NOYA, Antonella. Desarrollo local integrado y economía social. Cuadernos de Economía Social (CEPES) [en línea], núm. 2, 2007, p. 1-3 [23/11/2009]. Disponible en Internet: http://www.cepes.es/media/docs/C.ES-07-%20n2-DESARROLLO%20LOCAL.pdf. PRÉVOST, Paul. El desarrollo local y las cooperativas. Cuadernos de Desarrollo Rural [en línea], Núm. 37, segundo semestre, segundo semestre 1996, p. 25-45. [03/08/2009]. Disponible en Internet: http://redalyc.uaemex.mx/redalyc/pdf/117/11705507.pdf. ISSN 0122-1450. ROJAS CORIA, Rosendo. Tratado de Cooperativismo Mexicano. 3ª ed. México: Fondo de Cultura Económica. 1984. 695 pág. ISBN-13: 978-9681608774. SANCHIS PALACIO, Joan Ramón. Las estrategias de desarrollo local: aproximación metodológica desde una perspectiva socioeconómica e integral. Revista de Dirección, Organización y Administración de Empresas [en línea], núm. 21, enero de 1999, pp. 147-160. [12/08/2009]. Disponible en Internet: http://www.cepade.es/Ademas/fr_pdf.asp?num=21&artic=14. ISSN 1132-175X. STIGLITZ, Joseph E. Cómo hacer que funcione la globalización. 1ª ed. México: Editorial Taurus, 2006, 440 páginas. ISBN 9707707321. YIN, Robert K. Case Study Research: Design and Methods. 1a ed. USA: SAGE Publications, 1984. 160 pág. ISBN 0803920571.
Collections