Publication:
Mercury and organotin compounds monitoring in fresh and marine waters across Europe by Chemcatcher passive sampler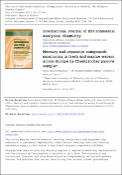 Advisors (or tutors)
Editors
Abstract
Several field trials have been carried out to assess the performance of the passive sampler Chemcatcher as aquatic monitoring technology for inorganic mercury and the organotin pollutants monobutyltin (MBT), dibutyltin (DBT) and tributyltin (TBT) in different types of waters across ten locations in Europe. Two version of the sampler were used. One for mercury that consists on 47 mm Empore™ disks of iminodiacetic chelating groups as the receiving phase overlaid by a diffusion membrane of polyethersulphone; and other for organotin compounds comprising a C18 disk and a cellulose acetate membrane. Both membranes were held in a disposable polycarbonate body. The two samplers were calibrated in the laboratory in a previous work to estimate the pollutant concentration. For field sampling, the samplers were deployed for 14 days. In parallel spot samples were periodically collected during the deployment period for comparison purposes. No significant biofouling on the samplers was observed for the locations monitored. In general, water concentrations estimated by Chemcatcher were lower than those found in spot water samples due to the device only collected the soluble bioavailable fraction of target pollutants. However, the pre-concentration capability of Chemcatcher allowed the determination of the tested pollutants at levels where spot sampling fails, even in difficult water bodies such as sewage treatment plants. These advantages lead to consider this emerging methodology as a complementary tool to traditional spot sampling.
Collections