Publication:
Simulating accelerated atoms coupled to a quantum field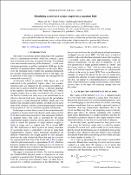 Advisors (or tutors)
Editors
Publisher
American Physical Society
Abstract
We show an analogy between static quantum emitters coupled to a single mode of a quantum field and accelerated Unruh-DeWitt detectors. We envision a way to simulate a variety of relativistic quantum field settings beyond the reach of current computational power, such as a high number of qubits coupled to a quantum field following arbitrary noninertial trajectories. Our scheme may be implemented with trapped ions and circuit QED setups.
Description
©2012 American Physical Society. The authors thank M. Montero for his helpful comments, and J. J. Garc´ıa-Ripoll for discussions. E.M-M. and M.dR. were supported by a CSIC JAE-PREDOC grant. M.dR. was also supported by Residencia de Estudiantes. D.P. was supported by RyC Contract No. Y200200074 and EU (PICC), Contracts No. FIS2009-10061 and No. CAM-UCM/910758. The authors were partially supported by QUITEMAD Project No. S2009-ESP-1594.
Collections