Publication:
Searching for good blank regions in the sky for flatfielding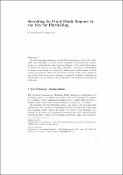 Advisors (or tutors)
Editors
Abstract
The most important advantage of widefield cameras is, precisely, the widefield, since this offers the observers the possibility of obtaining vast amounts of data in a much shorter observing time. However, for a reliable data interpretation it is necessary a proper data calibration. Concerning the flatfielding of images, many times it is required to obtain several integrations in blank regions (sky patches without bright sources) nearby to the science target areas. In this work we present a systematic approach to obtain a catalogue of useful blank regions, based on the application of the Delaunay triangulation of the sky.
Description
© Springer-Verlag Berlin Heidelberg 2010. Scientific Meeting of the Spanish-Astronomical-Society (SEA) (8th, 2008, Santander-Spain).
Collections