Publication:
Southern Mediterranean development through trade, Foreign Direct Investment and migration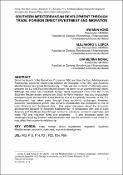 Advisors (or tutors)
Editors
Publisher
Instituto Complutense de Estudios Internacionales (ICEI)
Abstract
Since the launch of the Barcelona Process in 1995 and later the Euro-Mediterranean Partnership, economic relationship between the European Union (EU) and Southern Mediterranean has grown tremendously. Trade volume, in terms of absolute value, between the EU and Southern Mediterranean has grown to an unprecedented height. Although the value has increased, foreign direct investment (FDI) from the EU to Southern Mediterranean remains low. South-to-North migration has also undoubtedly increased given the fact that it has become one of the priority concerns of the EU. Development has taken place through these economic exchanges. However, economic development growth rate remains considerably low compared to that of Latin America and Southeast Asia. This paper discusses about the economic development dynamic of Southern Mediterranean in comparison with that of Latin America and Southeast Asia through economic indicators, economic openness and trade, FDI and migration flows and structures. It also discusses about the challenges faced by Southern Mediterranean and how the economic crisis in the EU may affect their economic relationship.
Citation
Aboyade, O. (1983): Integrated Economics: A Study of Developing Economies, Addison-Wesley Publisher Ltd, Great Britain. Akamatsu K. (1962): 'A historical pattern of economic growth in developing countries', Journal of Developing Economies, 1(1):3-25. Bajo, O. (1991): Teorías del Comercio Internacional, Antonio Bosch, Barcelona. Calcagno, A. E. and Jakbowicz, J (1981), El Monólogo Norte-Sur y La Exportación de Los Países Subdesarrollados, Siglo Veintiuno Editores, SA, Mexico. European Commission (2006). A Summary: Trade and the Barcelona process. Brussels: Commission of the European Union. Available at http://www.europaeu-un.org/articles/en/article_5835_en.htm on 02 February 2010. Feng, Y. (2003), Democracy, Governance, and Economic Performance, The MIT Press, The United States of America. Gilpin, R. (1987), The Political Economy of International Relations, Princeton University Press, New Jersey. Gordon, A. (1993), Postwar Japan as history, University of California Press, The United States of America. Hatakeyama, N. (2008), 'FDI & Technology Transfer', Japan Spotlight (July/August), 1. Helleiner, G. K. (1975), Comercio Internacional y Desarrollo Económico, Madrid: Alianza Editorial, Madrid. Landreth, Harry and Colander, David C. (2006), Historia del Pensamiento Económico. McGraw-Hill/Interamericana de España, S. A., Madrid. Lipset, S. M. (1959), Some Social Requisites of Democracy: Economic Development and Political Legitimacy. American Political Science Review 53:69-105. Lorca, A. (1997), Las fronteras de la UE, Ediciones Encunetro, Madrid. Lorca, A. and Escribano, G. (1998), Las economías del Magreb. Pirámide Economía XXI, Madrid. Lorca, A., Hong, W.M. and Medina, E. (2010), 'Reflexiones sobre la Pequeña y Mediana Empresa en el Mediterráneo Occidental.' Paper presented at the Seminar PYMES y Desarrollo Económico en el Maghreb y Oriente Medio, March 10-11, in Seville, Spain. Palazuelos, E. and Vara, M. J.(eds.) (2002), Grandes áreas de la economía mundial, Editorial Ariel S. A., Barcelona. Stiglitz, J. and Charlton, A. (2005), Fair Trade for All, How Trade Can Promote Development, Oxford University Press, New York. Vázquez Barquero, A. (2005), Las nuevas fuerzas del desarrollo, Barcelona: Antoni Bosch, editor, S. A., Barcelona.
Collections