Publication:
Diagnóstico del sistema de partidos en República Dominicana: padecimientos -recientes y añejos-, síntomas de mejoría y algunas recetas para su modernización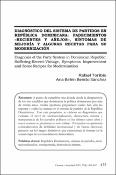 Advisors (or tutors)
Editors
Publisher
Instituto Tecnológico de Santo Domingo
Abstract
A punto de cumplirse una década desde la desaparición de los tres caudillos que dominaron la política dominicana por más de treinta años, resulta oportuno preguntarse cuáles han sido las rupturas y cuáles las inercias en el sistema de partidos de la República Dominicana. Con este propósito, se elaboró un diagnóstico que evaluara el nivel de institucionalización, democracia interna y transparencia de los partidos políticos en los últimos cinco años y cuyos avances se presentan en este trabajo. Escenarios en apariencia contradictorios de debilidad institucional y de fuerza electoral, parecen ser los rasgos distintivos que caracterizan al sistema en la actual etapa de la consolidación democrática.
After ten years since the disappearance of the three leaders who dominated the Dominican politics for more than thirty years, It must be asked which have been the breaks and which the inertia in the Dominican Party System. Those are the objectives of the Diagnostic, which evaluated the level of institutionalization, internal democracy and transparency of the political parties in the last five years. Institutional weakness and electoral force are the distinctive features of the current phase of the democratic consolidation in the country.
Collections