Publication:
¿Hacia un cambio de modelo productivo? El rol de las grandes empresas y el capital extranjero en la economía española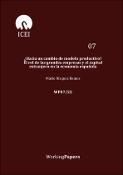 Files
Authors
Advisors (or tutors)
Editors
Publisher
Instituto Complutense de Estudios Internacionales (ICEI)
Abstract
Durante los últimos años estamos asistiendo a interrupciones abruptas de los flujos productivos y comerciales internacionales a consecuencia de eventos como la pandemia mundial o la invasión de Rusia en Ucrania. En el contexto de una creciente fragmentación productiva internacional, articulada jerárquicamente por grandes empresas transnacionales en torno a las denominadas cadenas globales de producción, estos shocks de oferta han evidenciado en las economías nacionales los riesgos que entrañan las fuertes relaciones de interdependencia económica a escala mundial. De este modo, en la disciplina económica se ha revitalizado el debate en torno a los procesos de cambio estructural en los modelos productivos a escala nacional, con objeto de transitar hacia estructuras productivas con mayor grado de autosuficiencia y autonomía económico-productiva. El propósito de este trabajo es analizar, para el caso de la economía española, algunos nodos críticos que deben tomarse en cuenta en el marco de este debate. Por un lado, se identifican algunos subsectores que por su grado de articulación con el conjunto del tejido productivo resultan clave para impulsar un cambio de modelo productivo. Por otro lado, se analiza en qué grado depende la actividad en estos sectores de grandes empresas transnacionales y de filiales de capital extranjero, un aspecto clave para la toma de decisiones.
In recent years, we have witnessed sudden interruptions in international production and trade flows as a result of events such as the global pandemic or the Russian invasion of Ukraine. In a context of international productive fragmentation, hierarchically articulated by large transnational corporations around the so-called global production chains, these supply shocks have highlighted in national economies the risks associated with strong economic interdependence on a global scale. Thus, the economic discipline has revitalized the debate on the processes of structural change in national economies, with the aim of moving towards productive structures with a greater degree of self-sufficiency and economic autonomy. The aim of this research applied to the study of the Spanish economy is to analyze some critical nodes that should be taken into account in the framework of this debate. On the one hand, we identify some subsectors which, due to their degree of articulation with the productive structure as a whole, are key to promoting a change in the productive model. On the other hand, we also analyze the degree of dependence of the activity of these sectors on large transnational corporations and foreign capital subsidiaries, a key aspect for decision-making.
Citation
Arndt, S. W. y Kierzkowski, H. (Eds.). (2001). Fragmentation: New production patterns in the world economy, Oxford University Press. Cadestin, C., De Backer, K., Desnoyers-James, I., Miroudot, S., Rigo, D., & Ming, Y. (2018). Multinational enterprises and global value chains: the OECD analytical AMNE database. OECD Trade Policy Papers, No. 211, OECD Publishing, Paris. De Backer, K., Miroudot, S., & Rigo, D. (2019). Multinational enterprises in the global economy: Heavily discussed, hardly measured. Centre for Economic Policy Research, VoxEU. Durand, C., y Milberg, W. (2020). Intellectual monopoly in global value chains. Review of International Political Economy, 27(2), 404-429. Durán, J. E., & Banacloche, S. (2021). Análisis económicos a partir de matrices de insumo-producto: definiciones, indicadores y aplicaciones para América Latina. CEPAL, NNUU. European Commission (2021). The 2021 EU industrial R&D investment scoreboard, Publications Office of the European Union, Joint Research Centre. Feenstra, R. C. (1998). Integration of trade and disintegration of production in the global economy. Journal of Economic Perspectives, 12(4), 31-50. Foster, J. B., McChesney, R. W., & Jonna, R. J. (2011). Monopoly and competition in twenty-first century capitalism. Monthly Review, 62(11), 1. Gilloux-Nefussi, S. (2018). Are monopolies a danger to the United States?. Post nº47, Eco Notepad, Banque de France. Gracia, M. (2018). Articulación productiva en un espacio regional jerarquizado: el sector automotriz europeo (1995-2015). Tesis Doctoral, Universidad Complutense de Madrid, Madrid. Henderson, J., Dicken, P., Hess, M., Coe, N., & Yeung, HWC. (2002). Global production network and the analysis of economic development. Review of International Political Economy, 9(3), 436–464. Hirschmann, A. O. (1958). The Strategy of Economic Development. Yale University Press: New Haven. Meng, B., Xiao, H., Ye, J., & Li, S. (2019). Are global value chains truly global? A new perspective based on the measure of trade in value-added. IDE Discussion Paper, 736, IDE-JETRO, Chiba City, Japan. Milberg, W., y Winkler, D. (2013). Outsourcing economics: global value chains in capitalist development. Cambridge University Press. Rasmussen, P. N. (1958). Studies in Inter-sectorial Relations. North-Holland P.C.: Amsterdam. Rikap, C. (2018). Innovation as economic power in Global Value Chains. Revue d'économie industrielle, 163, 35-75. Rísquez, M. (2021). El cambio de modelo productivo en el marco de las cadenas globales de producción. Dossieres EsF, 40, 23-27. Stephenson, S. (2013). Global value chains: the new reality of international trade. E15Initiative. Ginebra: International Centre for Trade and Sustainable Development (ICTSD) and World Economic Forum. Takeishi, A. & Fujimoto, T. (2001). Modularization in the auto industry: interlinked multiple hierarchies of product, production, and supplier systems. Working paper No. 01-02, Hitotsubashi University Institute of Innovation Research. Tepper, J. y Hearn, D. (2018). The myth of capitalism: monopolies and the death of competition. John Wiley & Sons. UNCTAD (2022): World Investment Report 2022: International tax reforms and sustainable investment. Ginebra: UUNN. UNCTAD (2019): World Investment Report 2022: Special economic zones, Ginebra: UUNN. UNCTAD (2013). World Investment Report 2013: Global Value-Chains: Investments and Trade for Development. Ginebra: UUNN. Vitali, S., Glattfelder, J. B., & Battiston, S. (2011). The network of global corporate control. PloS one, 6(10), e25995.