Publication:
Incorporating the water footprint and virtual water into policy: Reflections from the Mancha Occidental region, Spain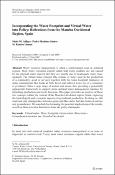 Advisors (or tutors)
Editors
Abstract
Water resource management is often a controversial issue in semiarid regions. Most water resources experts admit that water conflicts are not caused by the physical water scarcity but they are mainly due to inadequate water management. The virtual water concept (the volume of water used in the production of a commodity, good or service) together with the water footprint (indicator of water consumption that looks at both direct and indirect water use of a consumer or producer), links a large range of sectors and issues, thus providing a potentially appropriate framework to support more optimal water management practices by informing production and trade decisions. This paper provides an analysis of these two concepts within the context of the Mancha Occidental region, Spain, exploring the hydrological and economic aspects of agricultural production. In doing so, this work not only distinguishes between green and blue water but also between surface and groundwater. We conclude by discussing the practical implications of the results, as well as their potential limitations from the policy standpoint.
Collections