Publication:
Confirmación de un laudo ineficaz y no ejecutable (Sentencia 5/ 2012 del TSJ de Madrid de 13 de marzo de 2012).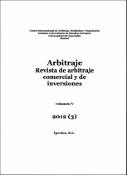 Authors
Advisors (or tutors)
Editors
Publisher
Centro Internacional de Arbitraje, Mediación y Negociación (CIAMEN)
Abstract
RESUMEN: La Sentencia de 13 de marzo de 2012 del Tribunal Superior de Justicia de Madrid, ratifica la validez de un laudo parcial sobre jurisdicción, desestimando la demanda de anulación presentada por la empresa venezolana Diques y Astilleros Nacionales; le impone a ésta las costas procesales y declara su temeridad. Sin embargo, lo realmente llamativo de la Sentencia radica en los argumentos empleados para sobredimensionar la importancia del Derecho de la sede arbitral en detrimento del propio Derecho elegido por las partes. ABSTRACT: The decision of the High Court of Justice of Madrid dated March 13, 2012, ratifies the validity of an interim award on jurisdiction, dismissing the application for annulment filed by "DIANCA"; it imposes legal costs to the company and declares its recklessness. However, what is really striking in this judgment lies in the arguments used to overstate the importance of law of the seat of arbitration at the expense of law itself chosen by the parties.
Collections