Publication:
A first estimate of triply heavy baryon masses from the pNRQCD perturbative static potential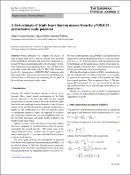 Advisors (or tutors)
Editors
Abstract
Within pNRQCD we compute the masses of spin-averaged triply heavy baryons using the now-available NNLO pNRQCD potentials and three-body variational approach. We focus in particular on the role of the purely three-body interaction in perturbation theory. This we find to be reasonably small and of the order 25 MeV. Our prediction for the Omega(ccc) baryon mass is 4900(250) MeV in keeping with other approaches. We propose to search for this hitherto unobserved state at B factories by examining the end point of the recoil spectrum against triple charm.
Description
© Springer-Verlag. Financial support by grants FPA2011-27853-01, FIS2008-01323 plus 227431, Hadron-Physics2 (EU) and PR34-1856-BSCH, UCM-BSCH GR58/08, 910309, PR34/07-15875, SB2010-0012. We thankfully acknowledge the computer resources, technical expertise and assistance provided by the CeSViMa and the Spanish Supercomputing Network. FJLE is a recipient of a Caja Madrid fellowship and thanks the hospitality of the TU-Munich theoretical physics group and especially Nora Brambilla and Antonio Vairo, who have been influential in several aspects of this work.
Citation
1. T. Melde, W. Plessas, B. Sengl, Phys. Rev. D 77, 114002 (2008). arXiv:0806.1454 [hep-ph] 2. U. Loring, B.C. Metsch, H.R. Petry, Eur. Phys. J. A 10, 395–446 (2001). hep-ph/0103289 3. L.Y. Glozman, D.O. Riska, hep-ph/9412231 4. N. Brambilla, S. Eidelman, B.K. Heltsley, R. Vogt, G.T. Bodwin, E. Eichten, A.D. Frawley, A.B. Meyer et al., Eur. Phys. J. C 71, 1534 (2011). arXiv:1010.5827 [hep-ph] 5. N. Brambilla et al. (Quarkonium Working Group Collaboration), hep-ph/0412158 6. N. Brambilla, A. Pineda, J. Soto, A. Vairo, Rev. Mod. Phys. 77, 1423 (2005). hep-ph/0410047 7. N. Brambilla, A. Pineda, J. Soto, A. Vairo, Phys. Rev. D 63, 014023 (2001). hep-ph/0002250 8. A. Pineda, A. Vairo, Phys. Rev. D 63, 054007 (2001). hep-ph/ 0009145 9. N. Brambilla, A. Pineda, J. Soto, A. Vairo, Nucl. Phys. B 566, 275 (2000). hep-ph/9907240 10. N. Brambilla, J. Ghiglieri, A. Vairo, Phys. Rev. D 81, 054031 (2010). arXiv:0911.3541 [hep-ph] 11. A. Vairo, in Proceedings of Quark Confinement and the Hadron Spectrum IV, ed. by W. Lucha, K. Maung Maung (World Scientific, Singapore, 2001). Eprint hep-ph/0010191 12. Y. Schroder, Phys. Lett. B 447, 321–326 (1999). arXiv:hep-ph/ 9812205 [hep-ph] 13. M. Peter, Nucl. Phys. B 501, 471–494 (1997). hep ph/9702245 14. P. Watson, H. Reinhardt, Phys. Rev. D 76, 125016 (2007). arXiv:0709.0140 [hep-th] 15. C. Popovici, P.Watson, H. Reinhardt, AIP Conf. Proc. 1343, 373– 375 (2011). arXiv:1011.2151 [hep ph] 16. R. Barbieri, M. Ciafaloni, P. Menotti, Nuovo Cimento A 55, 701– 723 (1968) 17. A. Laschka, N. Kaiser,W.Weise, Phys. Rev. D 83, 094002 (2011). arXiv:1102.0945 [hep-ph] 18. A. Laschka, N. Kaiser,W.Weise, in Proceedings of the XIV International Conference on Hadron Spectroscopy (hadron2011), 13– 17 June 2011, Munich, Germany (2011). arXiv:1108.5591 [hepph] 19. B.A. Kniehl, A.A. Penin, M. Steinhauser, V.A. Smirnov, Phys. Rev. D 65, 091503 (2002). arXiv:hep ph/0106135 [hep-ph] 20. G. Altarelli, in Proceedings of PASI (2002). hep ph/0204179 21. S. Bethke, Eur. Phys. J. C 64, 689–703 (2009). arXiv:0908.1135 [hep-ph] 22. S. Bethke, A.H. Hoang, S. Kluth, J. Schieck, I.W. Stewart, S. Aoki, M. Beneke, J. Blumlein et al., Workshop on Precision Measurements of alphas. arXiv:1110.0016 [hep-ph] 23. G. Rodrigo, A. Santamaria, Phys. Lett. B 313, 441(1993). hep-ph/9305305 24. N. Brambilla, X. Garcia i Tormo, J. Soto, A. Vairo, Phys. Rev. D 75, 074014 (2007). hep-ph/0702079 25. P. Guo, A.P. Szczepaniak, G. Galata, A. Vassallo, E. Santopinto, Phys. Rev. D 77, 056005 (2008). arXiv:0707.3156 [hep-ph] 26. C. Alexandrou, P. de Forcrand, O. Jahn, Nucl. Phys. B, Proc. Suppl. 119, 667–669 (2003). hep lat/0209062 27. A.S. Bakry, D.B. Leinweber, A.G. Williams, Gluonic profile of the static baryon at finite temperature. arXiv:1107.0150 [hep-lat] 28. N. Brambilla, A. Pineda, J. Soto, A. Vairo, Phys. Rev. D 60, 091502 (1999). hep-ph/9903355 29. A.H. Hoang, Phys. Rev. D 59, 014039 (1999). hep ph/9803454 30. A. Pineda, PhD dissertation presented to the Univ. of Barcelona (1998) 31. M. Beneke, Phys. Lett. B 434, 115–125 (1998). hep ph/9804241 32. K.G. Chetyrkin, M. Steinhauser, Phys. Rev. Lett. 83, 4001–4004 (1999). hep-ph/9907509 33. J.-L. Domenech-Garret, M.-A. Sanchis-Lozano, Phys. Lett. B 669, 52–57 (2008). arXiv:0805.2916 [hep-ph] 34. K. Nakamura et al. (Particle Data Group Collaboration), J. Phys. G 37, 075021 (2010) 35. N. Brambilla, Y. Jia, A. Vairo, Phys. Rev. D 73, 054005 (2006). hep-ph/0512369 36. B. Blossier et al. (ETM Collaboration), Phys. Rev. D 82, 114513 (2010). arXiv:1010.3659 [hep-lat] 37. A. Pich, arXiv:1107.1123 [hep-ph] 38. K.G. Chetyrkin, A. Retey, Nucl. Phys. B 583, 3–3 (2000). hep-ph/9910332 39. J.-R. Zhang, M.-Q. Huang, Phys. Lett. B 674, 28–35 (2009). arXiv:0902.3297 [hep-ph] 40. Yu Jia, J. High Energy Phys. 0610, 073 (2006). hep-ph/0607290 41. J.M. Flynn, E. Hernandez, J. Nieves, arXiv:1110.2962 [hep-ph] 42. B. Silvestre-Brac, Few-Body Syst. 20, 1–25 (1996) 43. V. Hasenfratz et al., Phys. Lett. B 94, 401 (1980) 44. S. Nussinov, Phys. Rev. Lett. 52, 966 (1984) 45. S. Nussinov, Phys. Rev. Lett. 51, 2081 (1983) 46. R. Alkofer, C.S. Fischer, F.J. Llanes-Estrada, K. Schwenzer, Ann. Phys. 324, 106–172 (2009). arXiv:0804.3042 [hep-ph] 47. J.D. Bjorken, Is the CCC a new deal for baryon spectroscopy?, in FERMILAB-CONF-85-069, C85-04-20 (Apr 1985) 48. W. Roberts, M. Pervin, Int. J. Mod. Phys. A 23, 2817–2860 (2008). arXiv:0711.2492 [nucl-th] 49. J. Vijande et al., Phys. Rev. D 70, 054022 (2004) 50. A.P. Martynenko, Phys. Lett. B 663, 317–321 (2008). arXiv: 0708.2033 [hep-ph] 51. S. Migura, D. Merten, B. Metsch, H.-R. Petry, Eur. Phys. J. A 28, 41 (2006). hep-ph/0602153 52. B. Patel, A. Majethiya, P.C. Vinodkumar, Pramana 72, 679–688 (2009). arXiv:0808.2880 [hep-ph] 53. S. Meinel, Prediction of the Ωbbb mass from lattice QCD. Phys. Rev. D 82, 114514 (2010). The Ωccc data was reported by C. Mc- Neile, communication to the VIIIth meeting of the Quarkonium Working Group, GSI, Darmstadt, October 4–7, 2011 (unpublished) 54. X.-H. Guo, K.-W. Wei, X.-H. Wu, Phys. Rev. D 78, 056005 (2008). arXiv:0809.1702 [hep-ph] 55. N. Brambilla, P. Consoli, G.M. Prosperi, Phys. Rev. D 50, 5878 (1994). hep-th/9401051 56. N. Brambilla, A. Vairo, T. Rosch, Phys. Rev. D 72, 034021 (2005). hep-ph/0506065 57. F.J. Llanes-Estrada, G.M. Navarro, arXiv:1108.1859 [nucl-th] 58. P. Bicudo, M. Cardoso, T. Van Cauteren, F.J. Llanes-Estrada, Phys. Rev. Lett. 103, 092003 (2009). arXiv:0902.3613 [hep-ph] 59. Y.Q. Chen, S.-Z. Wu, arXiv:1106.0193 60. S.P. Baranov, V.L. Slad, Phys. At. Nucl. 67, 808–814 (2004). hep-ph/0603090 61. A. Austregesilo (COMPASS Collaboration), J. Phys. Conf. Ser. 312, 032006 (2011). arXiv:1109.0230 [hep-ex] 62. L. Schmitt, S. Paul, R. Kuhn, M.A. Moinester, hep-ex/0310049 63. S.J. Brodsky, G.P. Lepage, P.B. Mackenzie, Phys. Rev. D 28, 228 (1983) 64. F. James, M. Roos, Comput. Phys. Commun. 10, 343–367 (1975) 65. G.P. Lepage, Cornell preprint CLNS 80-447, March 1980 66. G.P. Lepage, J. Comput. Phys. 27, 192–203 (1978) 67. T. Hahn, Comput. Phys. Commun. 168, 78–95 (2005). hep-ph/ 0404043 68. A.H. Hoang, A. Jain, I. Scimemi, I.W. Stewart, Phys. Rev. D 82, 011501 (2010). arXiv:0908.3189 [hep-ph
Collections