Publication:
Intelligibility in microbial complex systems: Wittgenstein and the score of life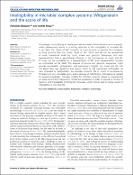 Authors
Advisors (or tutors)
Editors
Abstract
Knowledge in microbiology is reaching an extreme level of diversification and complexity, which paradoxically results in a strong reduction in the intelligibility of microbial life. In our days, the "score of life" metaphor is more accurate to express the complexity of living systems than the classic "book of life." Music and life can be represented at lower hierarchical levels by music scores and genomic sequences, and such representations have a generational influence in the reproduction of music and life. If music can be considered as a representation of life, such representation remains as unthinkable as life itself. The analysis of scores and genomic sequences might provide mechanistic, phylogenetic, and evolutionary insights into music and life, but not about their real dynamics and nature, which is still maintained unthinkable, as was proposed by Wittgenstein. As complex systems, life or music is composed by thinkable and only showable parts, and a strategy of half-thinking, half-seeing is needed to expand knowledge. Complex models for complex systems, based on experiences on trans-hierarchical integrations, should be developed in order to provide a mixture of legibility and imageability of biological processes, which should lead to higher levels of intelligibility of microbial life.
Collections