Publication:
Modelos de mujeres fálicas del postfeminismo mediático: una aproximación a "Millenium 1", "Avatar" y "Los juegos del hambre"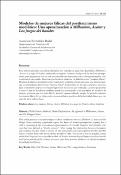 Authors
Advisors (or tutors)
Editors
Publisher
Universitat Autònoma de Barcelona
Abstract
Este artículo presenta una crítica cultural de tres películas de gran éxito de público: Millenium 1, Avatar y Los juegos del hambre, analizando un aspecto concreto: la figura de las mujeres protagonistas, para argumentar que se está produciendo un desplazamiento en la representación convencional de un modelo femenino que la crítica feminista ha definido como "mujeres fálicas". Después de plantear la relación entre feminidad y violencia, el texto presenta una historia (aunque no sistemática) del término "heroína fálica" desarrollado en los años ochenta y noventa, para contrastarlo después con las protagonistas de las películas indicadas. La tesis que plantea el texto es que en la cultura mediática actual han comenzado a ser aceptables los modelos de mujeres guerreras que van más allá del modelo hipersexualizado propio del periodo anterior: las mujeres fálicas de los últimos años tienen atributos positivos de la feminidad clásica que van más allá de la belleza física. [ABSTRACT]This article presents a cultural critique of three blockbuster movies: Millenium 1, Avatar and The Hunger Games, analyzing a particular aspect: the figure of women protagonists, arguing that a shift is occurring in the conventional representation of a model feminine, that feminist criticism has been defined as "phallic women". After posing the relationship between femininity and violence, the text offers a history of the term phallic heroin developed in the 80s and 90s, and to contrast them with most current models of film. The thesis is that in popular culture media have begun to be acceptable models of female warriors beyond hyper-sexualized model itself prior period: phallic women in recent years have positive attributes of classic femininity beyond physical beauty.
Citation
Bartlet, M. (2012). "Appettite for Spectacle. Violence and Entertainment in The Hunger Games" en Scrren Education. Nº 66, págs. 8-17. Baudrillard, J. (1991). La transparencia del mal. Madrid: Anagrama, 1991. Bernárdez Rodal, A. (2009). "De la violencia institucional a la violencia de género: últimas representaciones cinematográficas de la Guerra Civil en el cine español contemporáneo". Revista canadiense de estudios hispánicos (Número dedicado a: "Imaginarios de la violencia"), 34 (1), págs. 61-75. Bernárdez Rodal, A. (2008). Violencia de género en el cine español: análisis de los años 1998-2002 y guía didáctica. Madrid: Editorial Complutense. Bernárdez Rodal, A, (2002). "Violencia y cine: el sabor amargo de una fascinación". En: A. Bernardez Rodal (ed.) Violencia de género y sociedad: una cuestión de poder. Madrid: Ayuntamiento de Madrid. Págs. 87-108. Despentes, V. (2007). Teoría King Kong, Barcelona: Melusina. Esteban Santos, A. (2005). "Mujeres terribles. (Heroínas de la mitología griega I"). Cuadernos de Filología Clásica. Nº 15, págs. 63-69. Faludi, S. (1993). Reacción: la guerra no declarada contra la mujer moderna. Barcelona: Anagrama. Fisher, M. (2012). "Precarious Dystopias: The Hunger Games, in time, and never let me go". Film Quaterly. Vol. 65, págs. 27-33. Fraser, N. (2006). "La justicia social en la era política de la identidad: Redistribución, reconocimiento y participación". En: N. Fraser Y A. Honneth. ¿Redistribución o reconocimiento? Un debate político-filosófico. Madrid: Ediciones Morata. Hains, R. C. (2009). "Power Feminism, Mediated: Girl Power and the Commercial Politics of Change". Women's Studies in Communication. Vol. 32, nº 1, págs. 75-105. Hanson, H. (2007). Hollywood heroines: women in film noir and the female gothic film. Londres: Taurus. Heller, J. S. (2012). "The Hunger Games. As digital dominates, publishers consolidate and insist on licensing". Library Staff Publication. Nº 79, págs. 12-20. Hernando, A. (2012). La fantasía de la individualidad: sobre la construcción sociohistórica del sujeto moderno. Madrid: Katz editores. Imbert, G. (1999). "Violencia y representación: nuevos modos de ver y de sentir". Comunicación y cultura. Universidad de Salamanca, Fundación Infancia y Aprendizaje, nº 7-8. Jeffreys, Sh. (2005). Beauty and Misogyni: Harmful Cultural Practices in the West. EE.UU. y Canadá: Roultledge. Juliano, D. (1992). El juego de las astucias. Mujer y construcción de modelos sociales alternativos. Madrid: Horas y Horas. Lauretis, T. (1992). Alicia ya no. Madrid: Cátedra. Lotman, Y. (1996). "Acerca de la semiosfera". La semioesfera I. Semiótica de la cultura y el texto. Madrid: Ed. Fronesis. Meras, L. (2012). "Maternidades anómalas. Preproducción en la Ciencia Ficción cinematográfica de los años 90". Anàlisi. Núm. 46, págs. 35-47. Mulvey, Laura (1988). Placer visual y cine narrativo. Valencia: Centro de Semiótica y Teoría del Espectáculo. Olivier, B. (2011). "Film as communicational mediation of the ecological crisis: Avatar and the Road". Communicare. Vol. 30. págs. 66-85. Orbach, S. (2010). La tiranía del culto al cuerpo. Barcelona: Paidós. Paglia, C. (2001). Vamps & tramps: Más allá del feminismo. Valencia: Valdemar. Pozo Gordaliza, R. (2012). "La(s) violencia(s) de las mujeres jóvenes que delinquen: ¿violentas o violentadas". RES Revista de Educación Social. Nº 15, págs. 1-12. Rodin, Judith (1993). Las trampas del cuerpo. Barcelona: Paidós. Sánchez, S. (coord.) (2005). Vampiresas, mujeres fatales y otras chicas malas del cine. Barcelona: Comunicación y publicaciones. Simmons, A. M. "Class on Fire. Using The Hunger Games Trilogy to Encourage Social Action". Journal of Adolescent & Adult Literacy. Nº 56(1), págs. 22–34. Spyvac, G. (2012). Crítica de la razón poscolonial. Hacia una crítica del presente evanescente. Madrid: Akal. Stoltzfus, N. (2012). "The Hunger Games. Teaching Young Adults the Theme of Genocide" en http://linz.stargatecaps.com/pip/hungergames.pdf Tang, Young (2011). "Avatar: A Marxist Saga on the Far Distant Planet". Triple C (Cognition, Communication, Co-Operation): Open Access Journal for a Global Sustainable Information Society. Vol. 9-2 págs. 657-667. Thomas, Bronwen (2012). "Kicking the hornet's nest: The rhetoric of social campaigning in Sitieg Larsson's Millennium trilogy". Languaje & Literature. Vol. 21, págs. 299-310. Waites, K. (2008). "Babies in boots: Hollywood's oxymoronic warrion woman". En: YOUNG, M. (ed.) Chick flicks. Contemporary women al the movies. Nova York/ Londres: Routledge. Págs. 125-180. Wolf, N. (1994). Fire with Fire: The New Female Power and How to Use It. Nova York: Fawcett Columbine. Wolf, N. (1991). El mito de la belleza. Barcelona: Emecé
Collections