Publication:
Procedural Treatment of Recognition of Foreign Judgements in the Practice of Spanish Authorities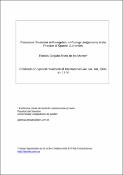 Advisors (or tutors)
Editors
Abstract
El presente trabajo analiza el reconocimiento en España de resoluciones extranjeras en lo que respecta a cuestiones de índole meramente procedimental y fundamentalmente a la luz de la práctica. Aborda, por tanto, las dificultades que plantea la existencia de diversos tipos de reconocimiento y de diferentes procedimientos para obtenerlo, y da cuenta de la aplicación que del sistema realizan los órganos jurisdiccionales españoles.
The present article aims at giving a complete view on the practice of Spanish authorities regarding the procedural aspects of recognition and 'enforcement' of foreign decisions. Subsequent to a brief introduction, the opening section of the work focuses on the scope of party autonomy, i.e., the possibilities that the interested parties may have in choosing among the several types of recognition and/or proceedings existing in the Spanish system, and also in opting for non-recognition. The following sections consider the main problems that arise in the development of recognition (or declaration of enforcement) proceedings, starting from their initiation. Therefore, it first studies the treatment given by judicial authorities to the determination of their competence, then to the right to intervene and the role of the Public Prosecution Service and finally the documentation required. Secondly, the course of the proceedings is examined in its various stages. In the first instance, a difference is laid down between non-adversarial and adversarial proceedings. Then, a special consideration is given to the adoption of provisional measures before ending with an analysis of the main aspects of the appeal regime.
Collections