Publication:
REFLEXIONES: Peter Cornelius Plockboy y la República cooperativa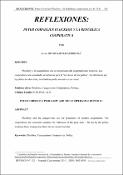 Authors
Advisors (or tutors)
Editors
Publisher
Facultad de Ciencias Económicas y Empresariales. Escuela de Estudios Cooperativos
Abstract
Plockboy y el cuaquerismo son los precursores del cooperativismo moderno. Las cooperativas son sociedades económicas para la "salvación de los pobres". Su utilización por la política las desvirtúa, haciéndolas perder su carácter universal.
Plockboy and the cuaquerismo are the precursors of modern cooperatism. The cooperatives are economic societies for "salvation of the poor men ". Its use by the policy weakens them, making lose them its universal character.
Plockboy et le quakérisme sont les précurseurs du cooperativism moderne. Les coopératives sont sociétés économiques pour le "salut des pauvres". Son utilisation par la politique il les affaiblit, en les faisant perdre son caractère universel.
Citation
DIVAR, Javier, La Alternativa Cooperativa. Biblioteca de Cooperativismo. CEAC: Barcelona, 1985. CHERNYSLOV, Victor, "Desarrollo de las Cooperativas de Consumo en la URSS", Anuario de Estudios Cooperativos, Universidad de Deusto, 1989, pp. 23 y ss. LASSERRE, Georges, El Hombre Cooperativo, Ed. por Intercoop, Buenos Aires, 1980. Mladenatz, Gromoslav, Historia de las Doctrinas Cooperativas, Ed por Interccoop, Buenos Aires, 1969. DRIMER, Alicia y Bernardo, Las Cooperativas: Fundamentos, Historia, Doctrina. 3ª ed., Buenos Aires, 1981.
Collections