Publication:
Development of data reduction pipelines for GTC instruments at the UCM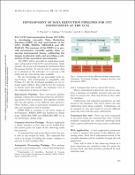 Authors
Eliche Moral, María del Carmen
Advisors (or tutors)
Editors
Publisher
Universidad Nacional Autónoma Mexico, Inst. de Astronomía
Abstract
The UCM Instrumentation Group (GUAIX) is developing currently Data Reduction Pipelines (DRP) for four instruments of the GTC: EMIR, FRIDA, MEGARA and MIRADAS. The purpose of the DRPs is to provide astronomers scientific quality data, removing instrumental biases, calibrating the images in physical units and providing a estimation of the associated uncertainties.
Description
© 2013: Instituto de Astronomía, UNAM. Science with the GTC Meeting (4th. 2011. Santa Cruz La Palma, SPAIN).
Collections