Publication:
Innovaciones participativas y deliberativas para la construcción de las esferas publicas europeas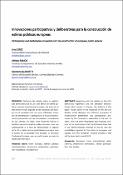 Advisors (or tutors)
Editors
Publisher
Universidad de Salamanca: Asociación Contubernio
Abstract
Partiendo del debate sobre la legitimidad democrática de la UE y del déficit de esfera publica a escala transnacional europea, los autores de este texto revisan algunas de las iniciativas de dialogo con la sociedad civil, así como diferentes procesos de deliberación y participación a escala transnacional promovidos por las autoridades comunitarias en los últimos 10 años. Este recorrido teórico e histórico permitirá analizar cuales han sido y son sus implicaciones a la hora de democratizar el espacio de la UE y cuales son las posibilidades que abre para la acción de la sociedad civil europea la Iniciativa Ciudadana Europea, que se podrá poner en marcha desde abril del 2012.
Beginning with the debate on the EU's democratic legitimacy and the deficitary transnacional public sphere in Europe, the authors of this paper review some dialogue and different processes of transnacional deliberation and participation promoted by the Community authorities in the last 10 years. This will allow theoretical and historical analysis of the implications that this initiatives have had in the democratization process of the EU and the possibilities oppened for the action of european civil society with the European Citizens 'Initiative, that will be launched in April- 2012.
Collections