Publication:
Radial distribution of dust properties in nearby galaxies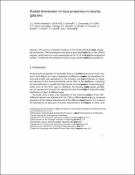 Advisors (or tutors)
Editors
Abstract
We present a detailed analysis of the radial distribution of dust properties (extinction, PAH abundance and dust-to-gas ratio) in 57 galaxies in the SINGS sample, performed on a multi-wavelength set of UV, IR and radio surface brightness profiles, combined with published molecular gas profiles and metallicity gradients.
Description
© Springer-Verlag Berlin Heidelberg 2010. Artículo firmado por 14 autores. Scientific Meeting of the Spanish-Astronomical-Society (SEA) (8th. 2008. Santander/Spain).
Collections