Publication:
Planetario de la UCM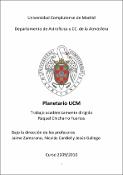 Authors
Advisors (or tutors)
Editors
Abstract
El planetario de la UCM se empezó a diseñar en el curso 2007/2008 con el objetivo fundamental de proveer al Dpto. de Astrofísica y CC. de la Atmósfera de la Universidad Complutense de Madrid de un planetario de bajo coste que se pudiera usar en las tareas de docencia y divulgación, dentro del observatorio UCM. El diseño original de la cúpula se basó en una aproximación quasi esférica con piezas triangulares, construida en cartón pluma. En lo que se refiere al sistema de proyección, se eligió un espejo esférico que combinado con el software astronómico Stellarium pudiera suplir la lente de ojo de pez y así, deformar la imagen para la correcta proyección en la cúpula del planetario. En el curso académico 2009/2010 se decidió sustituir la cúpula por una esférica y más resistente que la anterior, por lo que la cúpula fue construida por medio de gajos en fibra de vidrio, que se unieron para formar una cúpula esférica de 2.64 m de diámetro. Además, se diseñó el cajón para albergar el sistema de proyección, constituido por un proyector que manda el haz de luz a un espejo plano y éste a su vez al ya mencionado espejo esférico, el cual proyecta la imagen sobre la cúpula. Este trabajo fue desarrollado bajo la dirección de los profesores Jaime Zamorano, Nicolás Cardiel y Jesús Gallego y realizado por la alumna Raquel Chicharro Fuertes. [ABSTRACT] The UCM´s Planetarium was finished in the academic year 2009/2010 by Raquel Chicharro-Fuertes and supervised by Professors Jaime Zamorano, Jesús Gallego & Nicolás Cardiel, within the Departmento de Astrofísica y CC. de la Atmósfera of the Universidad Complutense de Madrid (UCM). The projection system was developed and built. In addition, we designed a spherical dome for the UCM´s Planetarium, which was built in fiberglass. The UCM Planetarium is a low-cost planetarium (Home Planetarium) whose projection system is based on the Stellarium capability of deforming the image of the sky. The video projector sends this image to a cheap spherical mirror and the resulting image is similar to that produced by a fisheye lens. The parameters of the Stellarium code have been turned to fit our optical design. The dome of the UCM Planetarium, which has been built at the Astronomical Observatory of UCM, has a diameter of 2.64 m. The aim of this project is to support both teaching and science outreach activities at the Astrophysics Department of the UCM.
Collections