Publication:
Fotometría absoluta y brillo de fondo de cielo con AstMon-UCM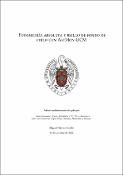 Authors
Advisors (or tutors)
Editors
Abstract
Las imágenes de todo el cielo han demostrado ser una potente herramienta para determinar la calidad astronómica del cielo, y su uso se está extendiendo hoy en día tanto ubicaciones de futuros observatorios como en los ya existentes. El observatorio astronómico de la Universidad Complutense de Madrid (Observatorio UCM) es un observatorio urbano situado en el Campus Universitario que constituye un excepcional laboratorio para estudiar efectos de la actividad humana como la contaminación lumínica, la contaminación del aire y la concentración de aerosoles en la calidad astronómica del cielo. Para estudiar estos efectos, instalamos hace dos años el monitor astronómico AstMon-UCM. Durante el pasado año hemos desarrollado un paquete de programas de código abierto para automatizar el análisis de las imágenes de cámaras de todo el cielo, caracterizando la calidad del cielo para observaciones astronómicas a través de parámetros como el Brillo de Fondo de Cielo o la Extinción Atmosférica. Este paquete se ha aplicado tanto en imágenes de AstMon-UCM como de otros monitores de todo el cielo y cámaras digitales equipadas con objetivos ojo de pez, comparando los resultados obtenidos con datos provenientes de fotómetros SQM. Estas herramientas abren la puerta a numerosas y excitantes posibilidades.[ABSTRACT] All-Sky images have proven to be a powerful tool for determining the astronomical sky quality, nowadays their use is spreading both for planned and existing observatories. The Universidad Complutense de Madrid's astronomical observatory (Observatorio UCM) is an urban observatory located at Campus of the University. It provides an excepcional laboratory to study the effects of human activity such as light pollution, air pollutants and aerosol concentration in the astronomical quality of the sky. In order to study these effects, we set up two years ago the all-sky monitor AstMon-UCM. During the last year we have been developing an open-source software package to automate the analysis of all-sky cameras images. It characterizes sky quality for astronomical observations through parameters like Sky Brightness and Atmospheric Extinction. We have applied it to images from the AstMon-UCM, other all-sky monitors and common digital cameras equipped with fisheye lenses. Results have been compared with data derived from SQM photometers. These tools open the door to several exciting possibilities.
Description
Trabajo Académicamente dirigido Curso 2011-2012
Citation
[Bui] Christian Buil. Complement : How to compute the photon transfer curve and the electronic gain ? http://www.astrosurf.com/buil/20d/20dvs10d.htm; [Online; accesed 19-Mayo-2012]. [cG02] M. R. calabretta and E. W. Greisen. Representations of celestial coordinates in fits. 07 2002. Apartado 5.1.8. [Cor] Magali Coralie, Amaud. Vignetting effect of two identical fisheye lenses. http://goo.gl/a4CT5. [Online; accessed 19-Mayo-2012]. [ea11] Aceituno et al. An all sky transmission monitor: Astmon. arXiv:1107.1682v1, 2011. [iAS11] iTec Astronómica S.L. Manual de instrucciones (astmon). 2011. Página 19. [Ina] Mehlika Inanici. Applications of image based rendering in lighting simulation: development and evaluation of image based sky model. http://faculty.washington.edu/inanici/Publications/BS09_0264_271.pdf; [Online; accessed 19-Mayo-2012]. [Lab] Chuleta de laboratorio. http://www.gae.ucm.es/fisatom/docencia/labofis/chuleta/chuleta.pdf; [Online; accessed 08-Abril-2012]. [Mor11] Pablo Ramirez Moreta. Brillo de fondo de cielo con astmon. 2011. http://eprints.ucm.es/15000/. [Pat03] F. Patat. A robust algorithm for sky background computation in ccd images. arXiv:astroph/0301534v1, 2003. [QSI] QSImaging. Measuring ccd read noise. http://www.qsimaging.com/ccd_noise_measure.html. [Wika] Wikipedia. Hora_del_planeta. http://es.wikipedia.org/wiki/La_hora_del_ planeta; [Online; accessed 08-Abril-2012]. [Wikb] Wikipedia. Kendall tau rank correlation coefficient. http://en.wikipedia.org/wiki/Kendall_tau_rank_correlation_coefficient; [Online; accessed 08-Abril-2012]. [Wikc] Wikipedia. Theil–sen estimator. http://en.wikipedia.org/wiki/Theil-Sen_estimator; [Online; accessed 08-Abril-2012].
Collections