Publication:
Hacia una estética global mediatizada: de la moda al espectáculo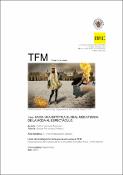 Authors
Advisors (or tutors)
Editors
Abstract
El fascinante mundo de la moda ha sufrido una serie de cambios actuales que la han convertido no tanto en un juguete roto de la cultura, sino que se ha posicionado como sujeto manipulador social. La moda es la verdadera modeladora de la contemporaneidad, evidenciando la pérdida de poder de otros sectores culturales entre ellos el artístico y es por esa razón por la que a los artistas contemporáneos les interesan esta serie de acontecimientos para la creación de obras de arte y éstas vibran en base a esta nueva serie de acontecimientos. Realizaremos un estudio de como los asuntos trascendentales de la tradición artística occidental (cuerpo, espacio, tiempo, lugar, etc.) han sido transformados gracias al sistema de la moda en la sociedad difusa. [ABSTRACT]The fascinating fashion world has suffered nowadays several changes that has converted it into, not that much as a broken toy of culture, but a social manipulative character. Fashion is the true contemporary modeler, showing the lack of power of other cultural fields, including artistic sector. This is the reason why contemporary artists are interested in this series of events to create works of art and they vibrate according to this new series of events. We will study how significant matters regarding occidental artistic tradition (body, space, time, place, etc) has been radically altered thanks to fashion system in the diffuse society.