Publication:
Muerte y religión en Mircea Eliade / Death and Religion in Mircea Eliade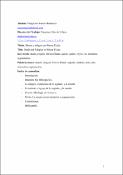 Authors
Advisors (or tutors)
Editors
Abstract
El presente trabajo, es, como no puede ser de otra manera, un estudio limitado y de síntesis en el que intentaremos examinar y fijar el concepto de religión en el pensamiento de Mircea Eliade, expresado en el término sagrado, su lenguaje, su estructura y sus manifestaciones, para poder mostrar los modelos representativos de una realidad trascendental como es la muerte en el estudio comparativo de las distintas formas religiosas o círculos culturales que el autor rumano realiza en su obra científica, a través del símbolo (donde se tratará una noción clave en el pensamiento de Eliade como es el simbolismo religioso, así como las asociaciones y sistemas simbólicos estructurados relacionados con la muerte en las diversas formas histórico-religiosas), del mito (donde analizaremos el tema del mito como fundamento y explicación de la realidad y de sus estructuras, así como los mitos relacionados con la muerte: su origen, la existencia del más allá, etc. ) y del rito (donde se presenta la muerte como transición que sirve de paso hacia otra forma de existencia, presente en los ritos iniciáticos, y de ahí como regeneración espiritual). Haremos asimismo una breve consideración sobre sus creencias religiosas y su actitud personal ante la muerte. El trabajo se cierra con un capítulo bibliográfico, referencia de los documentos bibliográficos utilizados para la elaboración del presente trabajo. / The present work is a limited and synthetic study where we will try to examine and establish the concept of religion in the thought of Mircea Eliade, expressed in the term "sacred", its language, its structure and its manifestations in order to show the representative models of a transcendent reality as the death in the comparative study of different religious forms or cultural circles that the Romanian author introduces in his scientific work, through the symbol (we'll introduce a key notion in Eliade's thought as religious symbolism and associations and symbolic structured systems related with the death in the various historical-religious forms), the myth (we'll analyze the subject of myth as the foundation and explanation of reality and its structures, as well as the myths related to death: their origin, the existence of the afterlife, etc.), and the rite (in which death occurs as a transition that serves as a step to another form of existence, present in the rites of passage, and therefore as spiritual regeneration). We also provide a short consideration of his religious beliefs and his personal attitudes towards death. The work concludes with a final bibliographic section which includes the bibliographic documents used to prepare the present work.