Publication:
Derechos educativos y homeschooling en España: situación actual y perspectivas de futuro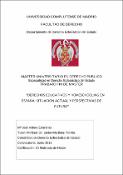 Authors
Advisors (or tutors)
Editors
Abstract
Si bien la sentencia del Tribunal Constitucional de 2 de diciembre de 2010 ha supuesto un duro revés para los partidarios del homeschooling en España, lo cierto es que, a la vez que parece querer cerrar la posibilidad de una objeción de conciencia al deber jurídico de escolarización, ha abierto el debate público acerca de la conveniencia de que se reforme el sistema educativo con el fin de introducir en él la enseñanza en el hogar. Este trabajo estudia la conveniencia de dicha regulación desde un análisis del artículo 27 CE y del derecho de los padres a elegir la educación de sus hijos. ABSTRACT: Although the judgment of December 2, 2010 by the Spanish Constitutional Court has dealt a serious blow to homeschoolers in Spain, the truth is that, even as it has intended to close any possibility of conscientious objection to school compulsory attendance, it has also started a public debate on whether it would be convenient to modify the current educational system in order to legalize home education. This paper analyzes this possibility from the standpoints of article 27 of the Spanish Constitution and the rights of parents over the education of their children.