Publication:
Estudio experimental, in vitro, sobre la estabilidad cromática de los composites Amaris (VOCO)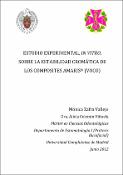 Authors
Advisors (or tutors)
Editors
Citation
1.- Saleh A. Influencia de la fuente de fotoactivación, y del espesor sobre la variación del color y la translucidez de nuevos composites. Tesis Doctoral. Universidad de Granada. Facultad de Ciencias. Departamento de Óptica. Noviembre 2006. 2.- Akarslan ZZ, Sadik B, Erten H, Karabulut E. Dental esthetic satisfaction, received and desired dental treatments for improvement of esthetics. Indian J Dent Res, 2009; 20 (2): 195-200. 3.- García Gargallo M, Martínez Vázquez de Parga JA, Celemín Viñuela A. Propiedades estéticas de las resinas compuestas. Rev Int Prot Estomatol, 2011; 13 (1): 11-22. 4.- Rodríguez G, Douglas R, Pereira S, Natalie A. Evolución y tendencias actuales en resinas compuestas. Acta odontol venez, 2008; 46 (3): 381-92. 5.- Keith H.S. Chan, Yanjie Mai, Harry Kim, Keith C.T. Tong, Desmond Ng and Jimmy C. M. Hsiao. Review: Resin Composite Fillings. Materials, 2010; 3: 1228-43. 6.- Hervás García A, Martínez Lozano MA, Cabanes Vila J, Barjau Escribano A, Fos Galve P. Resinas compuestas. Revisión de los materiales e indicaciones clínicas. Med Oral Patol Oral Cir Bucal, 2006; 11: E215-20. 7.- Krämer N, Lohbauer U, García-Godoy F, Frankerberger R. Light curing of resin-based composites in the LED era. Am J Dent, 2008; 21: 135-42. 8.- Bowen R. Properties of silica reinforced polymer for dental restoration. J Am Dent Assoc, 1963; 66: 57-64. 9.- Mount GJ, Hume WR. Conservación y restauración de la estructura dental. Mosby International Ltd, 1999; cap 9: 93-106. 10.- LeSage BP. Aesthetic Anterior Composite Restorations: A Guide to Direct Placement. Dent Clin N Am, 2007; 51: 359-78. 11.- Rueggeberg F, Caughman W, Curtis J, Davis H. Factors affecting cure at depths within light activated resin composites. Am J Dent, 1993; 6: 91-5. 12.- Rueggeberg FA, Caughman WF, Curtis JW. Effect of light intensity and exposure duration on cure of resin composite. Oper Dent, 1994; 19 (1): 26-32. 13.- Lefever D, Mayoral JR, Mercade M, Basilio J, Roig M. Optical integration and fluorescence: A comparison among restorative materials with spectrophotometric analysis. Quintessence Int, 2010; 41 (10): 837-44. 14.- Song SH, Yu B, Ahn JS, Lee YK. Opalescence and fluorescence properties of indirect and direct resin materials. Acta Odontol Scand, 2008; 66: 236-42. 15.- Mohamad D, Young RJ, Mann AB, Watts DC. Post-polymerization of dental resin composite evaluated with nanoindentation and micro-Raman spectroscopy. Archives Orofacial Sciences, 2007; 2: 26-31. 16.- Baggio Aguiar FH, Rodrigues Lazzari C, Nunes Leite Lima DA, Bovi Ambrosano GM, Lovadino JR. Effect of light curing tip distance and resin shade on microhardness of a hybrid resin composite. Braz oral res, 2005; 19 (4): 302-6. 17.- Shin DH, Ralph Rawlsb H. Degree of conversion and color stability of the light curing resin with new photoinitiator systems. Dent Mater, 2009; 25 (8): 1030-8. 18.- Parámetros de interés de las lámparas de polimerizar (II): Intensidad de la luz. Internet: http://www.geodental.net/article-5909.html Acceso: 28-05-2011. 19.- Abalos Labruzzi C, Martín-Hernández J, Llamas-Cadaval R, Jiménez-Planas A. Factores que influyen en la intensidad producida por las lámparas de polimerización. RCOE, 1999; 4: 25-38. 20.- Leonard DL, Charlton DG, Roberts HR, Hilton TJ, Zionic A. Determination of the minimum irradiance required for adequate polymerization of a hybrid and microfilled composite. Oper Dent, 2001; 26: 176-80. 21.- Yap AUG, Seneviratne C. Influence of light energy density on effectiveness of composite cure. Oper Dent, 2001; 26 (5): 460-6. 22.- Parámetros de interés de las lámaparas de polimerizar (IV): Tipos de lámparas. Internet: http://www.geodental.net/article-6050.html. Acceso: 28-05-2011. 23.- Correr L, Lima A, Consani S, Sinhoreti MA, Knowles JC. Influence of curing tip distance on composite knop hardness values. Braz Dent J, 2000; 11: 11-17. 24.- Pires JA, Cvitko E, Denehy GE, Swift J. Effect of curing tip distance on light intensity and composite resin mocrohardness. Quintessence Int, 1993; 24: 517-21. 25.- Tanoue N, Matsumura H, Atsuta M. Curing depth of prosthetic composite materials polymerized with their propietary photo-curing units. J Oral Rehabil, 1999; 26 (7): 594-9. 26.- Tanoue N, Murakami M, Koizumi H, Atsuta M, Matsumura H. Depth of cure and hardness of the indirect composite polymerized with three laboratory curing units. J Oral Sci, 2007; 49: 25-9. 27.- Forero M, Jané L. Estudio in Vitro de la Profundidad de Polimerización de dos Composites con Lámparas de Luz Halógena y LED. Rev Oper Dent Endod, 2006; 5: 46. 28.- Usumez A, Ozturk N, Ozturk B. Two-year color changes of light-cured composites: influence of different light-curing units. Oper Dent, 2005; 30 (5): 655-60. 29.- Tak O, Altintas SH, Ozturk N, Usumez A. Effect of three types of light-curing units on 5-year colour changes of light-cured composite. Clin Oral Investig, 2009; 13 (1): 29-35. 30.- del Mar Pérez M, Saleh A, Pulgar R, Paravina RD. Light polymerization-dependent changes in color and translucency of resin composites. Am J Dent, 2009; 22 (2): 97-101. 31.- Brackett MG, Brackett WW, Browning WD, Rueggeberg FA. The effect of light curing source on the residual yellowing of resin composites. Oper Dent, 2007; 32 (5): 443-50. 32.- Yazici AR, Celik C, Dayangaç B, Ozgünaltay G. The effect of curing units and staining solutions on the color stability of resin composites. Oper Dent, 2007; 32 (6): 616-22. 33.- Rüttermann S, Servos A, Wolfgang HM, Raaf & Ralf Janda. In vitro effect of light-emitting diode light polymerization on the color stability of three resin-based restorative materials. Acta Odontológica Escandinávica, 2008; 66 (1): 43-9. 34.- Johnston WM, Reisbick MH. Color and translucency changes during and after curing of esthetic restorative materials. Dent Mater, 1997; 13 (2): 89-97. 35.-http://issuu.com/ungatoenlared/docs/unidad_tem_tica__el_color Acceso: 6-11-2011 36.- Chu SJ. Precision shade technology: Contemporary strategies in shade selection. Pract Proced Aesthet Dent, 2002; 14 (1): 79-83. 37.- Núñez Díaz P, del Río Highsmith J. Estudio comparativo entre sistemas de medición del color en Odontología. Gaceta Dental: Industria y Profesiones, 2007; 179: 164-75. 38.- Historia del color. Internet: http://www.fotonostra.com/grafico/historiacolor.htm Acceso: 16-04-2011. 39.- Lafuente D. Física del color y su utilidad en odontología. Rev Cient Odontol, 2008; 4 (1): 10-15. 40.- Pereda López JC. El color: su incidencia en la odontología. Tesina de licenciatura en Odontología. U.C.M. 1991. 41.- Lu H, Lee YK, Villalta P, Powers JM, García-Godoy F. Influence of the amount of UV component in daylight simulator on the color of dental composite resins. J Prosthet Dent, 2006; 96 (5): 322-7. 42.- Meireles SS, Demarco FF, Santos IS, Dumith SC, Della Bona A. Validation and Reliability of Visual Assessment with a Shade Guide for Tooth-Color Classification. Operative Dentistry, 2008; 33 (2): 121-6. 43.- Carróns A, Campos J, Melgosa M. La Comisión Internacional de Iluminación (CIE). Internet: http://www.ceisp.com/uploads/media/CIE_VeryOir_01.pdf Acceso: 28-04-2011. 44.- Hassel AJ, Grossmann AC, Schmitter M, Balke Z, Buzello AM. Fiabilidad entre examinadores para la medición clínica de los valores de L*C*h* de los dientes anteriores usando un espectrofotómetro. Rev Int Prot Estomatol. Edición Hispanoamericana, 2008; 10 (2): 127-32. 45.- Hassel AJ, Cevirgen E, Balke Z, Rammelsberg P. Fiabilidad intraexaminador de la medición de color mediante espectrofotometría. Quintessence publicación internacional de odontología, 2010; 23 (4): 133-8. 46.- Browning WD, Contreras-Bulnes R, Brackett MG, Brackett WW. Color differences: Polymerized composite and corresponding Vitapan Classical shade tab. J Dent, 2009; 37: 34-9. 47.- Nakazawa M. Color stability of indirect composite materials polymerized with different polymerization systems. Journal of Oral Science, 2009; 51 (2): 267-73. 48.- Vichi A, Ferrari M, Davidson CL. Color and opacity variations in three different resin-based composite products after water aging. Dent Mater, 2004; 20 (6): 530-4. 49.- Sidhu SK, Ikeda T, Omata Y, Fujita M, Sano H. Change of color and translucency by light curing in resin composites. Oper Dent, 2006; 31 (5): 598-603. 50.- Johnston WM, Reisbick MH. Color and translucency changes during and after curing of esthetic restorative materials. Dent Mater, 1997; 13: 89-97. 51.- Yap A, Sim C, Loh W, Teo J. Human-eye versus computerized color matching. Operative Dentistry, 1999; 24: 358-63. 52.- Dietschi D, Campanile G, Holz J, Meyer JM. Comparison of the color stability of ten new-generation composites: an in vitro study. Dent Mater, 1994; 10 (6): 353-62. 53.- Koishi Y, Tanoue N, Matsumura H, Atsuta M. Colour reproducibility of a photo-activated prosthetic composite with different thicknesses. J Oral Rehabil, 2001; 28 (9): 799-804. 54.- Ikeda T, Sidhu SK, Omata Y, Fujita M, Sano H. Colour and translucency of opaque-shades and body shades of resin composites. Eur J Oral Sci, 2005; 113 (2): 170-3. 55.- Kim IJ, Lee YK. Changes in color and color parameters of dental resin composites after polymerization. J Biomed Mater Res B Appl Biomater, 2007; 80 (2): 541-6. 56.- Regain JC, Johnston WM. Minimum color differences for discriminating mismatch between composite and tooth color. J Esthet Restor Dent, 2001; 13 (1): 41-8. 57.- Tanoue N, Koishi Y, Atsuta M, Matsumura H. Properties of dual-curable luting composites polymerized with single and dual curing modes. J Oral Rehabil, 2003; 30 (10): 1015-21. 58.- Internet: http://www.vident.com/files/2011/02/Vident-Product-Catalog-2011_CAN.pdf Acceso: 15-05-2011. 59.- Schneider LF, Pfeifer CS, Consani S, Prahl SA, Ferracane JL. Influence of photoinitiator type on the rate of polymerization, degree of conversion, hardness and yellowing of dental resin composites. Dent Mater, 2008; 24 (9): 1169-77. 60.- Shuman I. Simplificación de las restauraciones directas con resina de composite en la zona estética. Maxillaris, nov. 2010; 137: 234-35. 61.- Amaris presentation. Internet: http://www.voco.es/es/products/_products/amaris/ Acceso: 15-06-2011. 62.- http://www.voco.es/es/products/_products/amaris/WI_ES_Amaris_TechnicalProfile.pdf Acceso: 20-05-2011. 63.- Torné Duran S, Escuin Henar T, Monreal Nieto J. Cambios cromáticos en la superficie cerámica. RCOE, 2003; 8 (5): 487-96.