Publication:
On-demand secure teleconferencing on public cloud infrastructures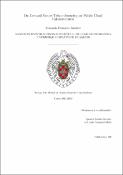 Authors
Advisors (or tutors)
Editors
Abstract
Uno de los principales obstáculos de la migración de las aplicaciones al cloud es la seguridad. No tener ningún control sobre cómo viajan nuestros datos a través de Internet y no conocer quién tiene acceso a ellos, hace que los usuarios sean reacios a adoptar una estrategia de migración de aplicaciones a cloud públicos. Un ejemplo concreto son las comunicaciones vía Internet, donde los usuarios pueden requerir comunicarse de una forma segura y no susceptible de espionaje o interceptación, es decir, sin tener una tercera persona escuchando la conversación. Este trabajo presenta dos arquitecturas de teleconferencia segura desplegadas en la nube, VPN Secure Cloud Teleconferencing Architecture y Hidden Server Cloud Teleconferencing Architecture, para abordar las posibles brechas de seguridad y ataques en las comunicaciones de voz sobre IP (VoIP) en un medio inseguro como Internet. Además, se propone un modelo representado por un árbol de decisión, en el que un usuario puede determinar de forma sencilla que arquitectura e infraestructura es la que mejor se ajusta a sus necesidades a la hora de establecer un servidor de teleconferencia segura en un cloud público. Este trabajo está organizado en tres partes: en la primera se presenta la motivación cientíca y el planteamiento del proyecto: el desarollo de arquitecturas capaces de hacer frente a los problemas de seguridad de las comunicaciones vía Internet; en la segunda, se detalla el proceso de despliegue de dichas arquitecturas y sus características; y en la tercera y última se presentan algunas de las conclusiones obtenidas y se identican futuras líneas de trabajo. [ABSTRACT] One of the main handicaps about migrating applications to the cloud is security. Having no control over how our data travels through the Internet and not knowing who has access to them, make users reluctant to adopt a public cloud migration strategy. Communications over the Internet are a concrete example where users may need to communicate in a secure way not susceptible to eavesdropping or interception, i.e. not having a third party to listen in. In this document, two new secure teleconferencing architectures deployed in the cloud are presented, Teleconferencing Secure Cloud VPN Architecture and Hidden Teleconferencing Server Cloud Architecture, to address possible security breaches and attacks in voice over IP (VoIP) communications in an unsafe environment such as the Internet. In addition, a model represented by a decision tree is proposed, in which a user can easily determine which architecture and infrastructure is the one that best ts his needs when establishing a secure teleconference server on a public cloud. This paper is organized in three parts: part I presents the scientic motivation and approach to the project: the development of architectures able to address security issues in Internet communications; in part II, the deployment of these architectures and their characteristics are detailed; and in part III, some of the conclusions are presented and future lines of research identied.
Description
Máster en Investigación en Informática, Facultad de Informática, Departamento de Arquitectura de Computadores y Automática, curso 2012-2013