Publication:
La composición del consejo de administración en la sociedad cotizada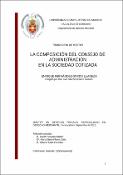 Authors
Advisors (or tutors)
Editors
Abstract
La composición del Consejo de Administración de las sociedades cotizadas responde a unas normas específicas que la diferencian del resto de sociedades mercantiles de capital por la amplitud de su masa accionarial, su significación económica y por los diferentes grupos de interés presentes en la compañía. Por ello, confluyen normas de carácter imperativo con otras de Derecho blando a través de las diferentes recomendaciones del Gobierno Corporativo. En este TFM, se analizan los principios del Derecho de sociedades aplicado a las cotizadas, las normas de Gobierno Corporativo y la estructura interna del Consejo de Administración ante la cuestión de las diferentes clases de consejeros y las distintas omisiones, y cómo todo ello ha supuesto una paulatina pérdida de poder de la Junta General.
The composition of the Board of Directors of listed companies respond to specific rules that differ from other companies we for the breadth of its mass shareholding, its economic significance and by different interest groups present in the company. Therefore, mandatory standards converge with other soft law through the various recommendations of the Corporate Governance. In this TFM, discusses the principles of law applied to listed companies, Corporate Governance standards and internal structure of the Board of Directors before the issue of the different types of directors and various commissions, and how this has led a gradual loss of power to the Shareholders Meeting.
Description
Calificado con Sobresaliente (9.0)