Publication:
Estudio del comportamiento de dos tratamientos antigraffiti como protectores de materiales de construcción : interacción antigraffiti-substrato, propiedades y durabilidad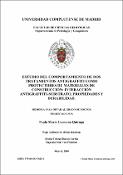 Files
Authors
Advisors (or tutors)
Editors
Publisher
Universidad Complutense de Madrid, Servicio de Publicaciones
Abstract
A los tradicionales agentes de deterioro de los materiales de construcción, agua, contaminantes atmosféricos, agentes biológicos, etc., hay que unir las pintadas y la suciedad con las que contribuye el hombre de forma directa. En las ciudades, los graffiti están sobre casi cualquier superficie, pero es en los edificios, especialmente en los históricos donde provocan un mayor impacto y deterioro. Para combatir este problema, han sido desarrollados los productos antigraffiti, que protegen las superficies de los materiales de construcción, impidiendo que la pintura penetre en sus sistemas porosos, o se adhiera a las superficies, facilitando de esta forma su posterior limpieza (con agua a presión, productos químicos, etc.). La memoria contenida en este volumen evalúa el comportamiento de dos de estos productos antigraffiti, un nuevo compuesto sintetizado en el Instituto de Cerámica y Vidrio (CSIC), Ormosil de Zr, y un producto comercial de naturaleza fluorada (Protectosil Antigraffiti® de Degussa), sobre la superficie de cinco materiales de construcción; mortero de cemento, mortero de cal, caliza, granito y ladrillo, en términos de compatibilidad (modificación de las propiedades petrofísicas), interacción (profundidad de penetración, formación de enlace químico y modificación de centros activos), eficacia (repelencia a las pintadas y al agua) y durabilidad (resistencia frente a ciclos hielodeshielo, radiación UV o atmósfera contaminada), dentro del proyecto "Tratamientos superficiales en la conservación de los materiales de construcción: bases científicas y diseño de nuevos productos polifuncionales" (MAT 2003-08343). Los resultados de cromatografía de gases inversa señalan que de los dos antigraffiti es el Protectosil (más concentrado) el que actúa más eficientemente en la reducción de la energía superficial del mortero de cal, la caliza y el granito. Este hecho explicaría los mejores resultados en la limpieza de los graffiti alcanzados en los materiales impregnados con este producto, claramente influenciados por la porosidad, cohesión y fundamentalmente rugosidad de los substratos. The damage caused by the traditional agents of construction material decay, namely water, air pollutants, biological agents and so on, is accentuated by direct human action in the form of graffiti and soiling. While graffiti can be found on nearly any surface in cities, their effects – visual impact and deterioration – are especially pernicious in buildings, historic buildings in particular. Anti-graffiti coatings have been developed to combat this problem by protecting the surface of construction materials to prevent paint from penetrating their pore systems or from adhering to the surface, thereby facilitating subsequent cleaning operations (with pressurized water, chemical products and so on). The present report evaluates the behaviour of two such anti-graffiti coatings, a new compound synthesized at the Ceramics and Glass Institute (a Spanish National Research Council, CSIC, body), Zr Ormosil, and a commercial fluorinated product (Protectosil Antigraffiti®, manufactured by Degussa). They were tested on five construction material surfaces: cement mortar, lime mortar, limestone, granite and brick. The parameters studied were compatibility (modification of petrophysical properties), interaction (penetration depth, chemical bonding and modification of active centers, effectiveness (paint and water repellence) and durability (resistance to freeze-thaw cycles, UV radiation and polluted air) under the project "Surface treatments for the conservation of construction materials: scientific fundamentals and design of new multipurpose products" (MAT 2003-08343). The inverse gas chromatography findings showed that of the two coatings, Protectosil (more highly concentrated) reduced the surface energy in lime mortar, limestone and granite more effectively. This would explain the more thorough cleaning of graffiti attained in the materials impregnated with this product, a result that was clearly related to the porosity, cohesion and especially the roughness of the substrates.
Description
Tesis de la Universidad Complutense de Madrid, Facultad de Ciencias Geológicas, Departamento de Petrología y Geoquímica, leída el 26-02-2010
Collections