Publication:
El consejero independiente: estatuto y funciones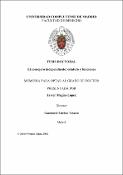 Files
Authors
Advisors (or tutors)
Editors
Publisher
Universidad Complutense de Madrid
Abstract
El presente trabajo aborda el estudio de la figura del consejero independiente de los Consejos de Administración de las sociedades cotizadas españolas, en la pretensión de delimitar su estatuto y sus principales cometidos. En su papel de mecanismo de control interno, se analiza la idoneidad de los diferentes elementos del estatuto para el desempeño de la función de supervisión sobre la gestión de la sociedad, destacando la existencia o ausencia de especialidades respecto a la posición de los demás miembros del Consejo de Administración. Con la finalidad de determinar adecuadamente el papel del consejero independiente, se analizan los orígenes, evolución y situación actual de la institución en Estados Unidos, asumiendo semejanzas y aclarando diferencias entre el modelo de gobierno estadounidense y el español, con el objetivo de adaptar el papel del consejero independiente a una realidad empresarial y jurídica diversa de aquella en que nació. Asimismo, se expone la situación comparada de las principales previsiones sobre el consejero independiente de los países europeos con mayor relevancia para la construcción jurídica española.
This work addresses the study of the independent director of the Spanish listed companies' board of directors, with the aim of defining its position and their main commitments. In its role as internal control mechanism, we analyze the suitability of the different elements of the status to monitor the management of the company, asserting the presence or absence of specialties compared with the position of the other members of board. In order to adequately determine the role of independent director, we discuss the origins, evolution and current situation of the institution in the United States, assuming similarities and clarifying differences between the American corporate governance model and the Spanish one, with the aim of adapting the role of the independent director to a different business and legal reality from that in which it was born. It also presents a comparative analysis of the key statements on independent director from those European countries with significance to Spanish law.
Description
Tesis inédita de la Universidad Complutense de Madrid, Facultad de Derecho, Departamento de Derecho Mercantil, leída el 13-01-2012
Collections