Publication:
C3G Protein, a New Player in Glioblastoma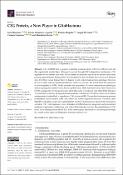 Advisors (or tutors)
Editors
Abstract
C3G (RAPGEF1) is a guanine nucleotide exchange factor (GEF) for GTPases from the Ras superfamily, mainly Rap1, although it also acts through GEF-independent mechanisms. C3G regulates several cellular functions. It is expressed at relatively high levels in specific brain areas, playing important roles during embryonic development. Recent studies have uncovered different roles for C3G in cancer that are likely to depend on cell context, tumour type, and stage. However, its role in brain tumours remained unknown until very recently. We found that C3G expression is downregulated in GBM, which promotes the acquisition of a more mesenchymal phenotype, enhancing migration and invasion, but not proliferation. ERKs hyperactivation, likely induced by FGFR1, is responsible for this pro-invasive effect detected in C3G silenced cells. Other RTKs (Receptor Tyrosine Kinases) are also dysregulated and could also contribute to C3G effects. However, it remains undetermined whether Rap1 is a mediator of C3G actions in GBM. Various Rap1 isoforms can promote proliferation and invasion in GBM cells, while C3G inhibits migration/invasion. Therefore, other RapGEFs could play a major role regulating Rap1 activity in these tumours. Based on the information available, C3G could represent a new biomarker for GBM diagnosis, prognosis, and personalised treatment of patients in combination with other GBM molecular markers. The quantification of C3G levels in circulating tumour cells (CTCs) in the cerebrospinal liquid and/or circulating fluids might be a useful tool to improve GBM patient treatment and survival.
Collections