Publication:
Structural foundations of sticholysin functionality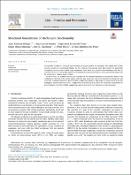 Advisors (or tutors)
Editors
Abstract
Actinoporins constitute a family of α pore-forming toxins produced by sea anemones. The soluble fold of these proteins consists of a β-sandwich flanked by two α-helices. Actinoporins exert their activity by specifically recognizing sphingomyelin at their target membranes. Once there, they penetrate the membrane with their N-terminal α-helices, a process that leads to the formation of cation-selective pores. These pores kill the target cells by provoking an osmotic shock on them. In this review, we examine the role and relevance of the structural features of actinoporins, down to the residue level. We look at the specific amino acids that play significant roles in the function of actinoporins and their fold. Particular emphasis is given to those residues that display a high degree of conservation across the actinoporin sequences known to date. In light of the latest findings in the field, the membrane requirements for pore formation, the effect of lipid composition, and the process of pore formation are also discussed.
Las actinoporinas, producidas por anémonas marinas, constituyen una familia de proteínas tóxicas formadoras de poros. Estas toxinas ejercen su actividad mediante el reconocimiento específico de esfingomielina en las membranas. La estructura hidrosoluble de estas proteínas consiste en un sándwich β flanqueado por dos hélices α. Cuando se produce la unión a la membrana, estas proteínas perforan la bicapa lipídica mediante la inserción de la hélice α localizada en el extremo N-terminal de su secuencia. Este proceso, que conduce a la formación de poros selectivos de cationes, provoca que las células afectadas acaben muriendo por el choque osmótico al que se ven sometidas. En esta revisión, se examina como las características estructurales de estar toxinas intervienen en su funcionalidad, haciéndose hincapié en los residuos que, dada su relevancia, presentan un mayor grado de conservación. Siguiendo los últimos descubrimientos del campo, también se analizan los requisitos moleculares de la membrana, el efecto de su composición lipídica y el propio proceso de formación de los poros.
Collections