Publication:
Formación de biopelículas por "Escherichia coli" y su correlación con factores de virulencia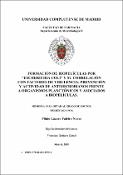 Files
Authors
Advisors (or tutors)
Editors
Publisher
Universidad Complutense de Madrid, Servicio de Publicaciones
Abstract
La capacidad de cepas patógenas de E. coli para causar distintos tipos de infecciones extraintestinales se correlaciona con la expresión de múltiples factores de virulencia incluyendo adhesinas, toxinas, sideróforos, sistemas de secreción, formación de biopelículas y otros factores que contribuyen conjuntamente a potenciar su patogenicidad. En esta investigación se evaluaron diferentes métodos para el estudio de la capacidad de formación de biopelículas por cepas patógenas de E. coli, la correlación entre esa capacidad y factores de virulencia, los efectos de diferentes compuestos en la formación de biopelícula y la actividad de antimicrobianos frente a bacterias planctónicas y asociadas a biopelículas. Se observó que la metodología elegida para el estudio de formación de biopelícula por E. coli influye de forma muy significativa en los resultados y que algunos factores de virulencia se correlacionan con una mayor capacidad de formación de biopelículas. Además se detectó que los compuestos probados ocasionaron reducciones, en grados variables, en la capacidad de formación de biopelículas y que las bacterias asociadas a estas estructuras fueron mucho menos sensibles a la acción de los antimicrobianos que sus correspondientes células planctónicas.[ABSTRACT]The ability of pathogenic strains of E. coli to cause different types of extraintestinal infections is correlated with expression of multiples virulence factors including adhesins, toxins, siderophores, secretion systems, biofilm production and others factors that simultaneously contributes to increasing bacterial pathogenicity. In this work were investigated different methodologies to study the capacity of pathogenic strains of E. coli to form biofilms, the correlation between this capacity and virulence factors, also the effects of different compounds on the biofilm formation, and the antimicrobial activity against planktonic and sessile bacteria. Were observed that the methodology used to study biofilm formation by E. coli interferes with the results in a very significant way, and that some virulence factors correlates with a mayor biofilm formation capacity. It also found that the tested compounds caused reductions, in varying degrees, in the capacity of produce biofilms and that sessile bacteria were much less sensible to antimicrobial action that its corresponding planktonic cells.
Description
Tesis de la Universidad Complutense de Madrid, Facultad de Farmacia, Departamento de Microbiología II, leída el 17-06-2009
Collections