Publication:
Presidente ejecutivo y gobierno corporativo de sociedades cotizadas en España: una aproximación al estado de la cuestión al hilo del reciente libro verde sobre gobierno corporativo de la Unión Europea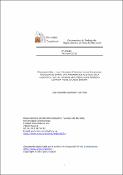 Authors
Advisors (or tutors)
Editors
Abstract
En el presente trabajo se aborda una aproximación crítica al estado de la cuestión en relación con la figura del Presidente-Consejero delegado o primer ejecutivo en las sociedades cotizadas desde la perspectiva de la normativa española de Buen Gobierno Corporativo, al hilo del reciente Libro Verde sobre Gobierno Corporativo de la Unión Europea. ABSTRACT: The present Paper includes an state of the art approach to the Executive Chair role in Public Companies under spanish Good Corporate Governance rules, following the recent UE Green Paper on Corporate Governance.
Description
Ponencia presentada en "IX Seminar Harvard-Complutense" celebrado los días 7, 8, 9 y 10 de noviembre de 2011 con el título "Transatlantic View on Corporate and Financial Law Issues"