Publication:
Relieve y agua en regiones graníticas: un modelo cuantitativo con aplicaciones en la gestión del agua y la geodiversidad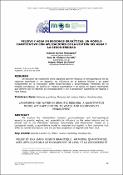 Advisors (or tutors)
Editors
Publisher
Instituto Universitario de Ciencias Ambientales, Universidad Complutense de Madrid
Abstract
Se estudian las relaciones entre aspectos geomorfológicos e hidrogeológicos de las regiones graníticas y, en especial, su influencia en el balance hídrico y su papel fundamental en la interacción entre Geodiversidad y Biodiversidad. Partiendo de un modelo conceptual, se diseña un modelo cuantitativo y se aplica en cuatro escenarios que difieren por el régimen de precipitaciones y por la proporción superficial de regolito y roca fresca. [ABSTRACT] We explore the relationships between geomorphologic and hydrogeological aspects in granitic regions, and especially its influence on the water balance and its pivotal role in the interaction between Geodiversity and Biodiversity. Based on a conceptual model, a quantitative model is designed and applied in four scenarios that differ by rainfall distribution and the surface proportion of regolith and fresh rock.
Collections