Publication:
Paleoenvironmental significance of C and O isotopic signal in last interglacial gastropod Dendropoma shell concentrations from Canary (Spain) and Sal (Cape Verde) islands.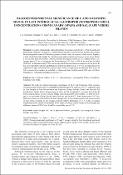 Advisors (or tutors)
Editors
Publisher
Sociedad Geológica de España
Abstract
Se estudia el significado paleoambiental de los isótopos estables de C y O de la concha del gasterópodo irregular Dendropoma, considerado un marcador del nivel medio del mar, procedentes de terrazas pertenecientes al Ultimo Interglaciar de Fuerteventura y Lanzarote (Islas Canarias, España), y de la isla de Sal (Cabo Verde). Se compara con la señal actual de Dendropoma sp. de la isla de Sal, y D. petraeum del Cabo de Palos (Murcia, España). El rango de valores es casi siempre menor a 1 ä, excepto para ä13C de los ejemplares de Fuerteventura (3,57‰) y ä18O de los de Cabo de Palos (2,09‰). La diferencia entre ä18O de los ejemplares de Fuerteventura con respecto a los de la isla de Sal, si la salinidad no cambió, probablemente refleja una diferencia de 3-4 ºC en la temperatura de la superficie del agua del mar (SST) de ambas zonas, similar a la que existe actualmente. Para la isla de Sal, en ausencia de cambios de salinidad y volumen de hielo, la diferencia de SST entre el Ultimo Interglacial y el Presente Interglacial sería de 2 ºC. [ABSTRACT] We study the paleoenvironmental significance of the C and O isotopes of the irregular coiled gastropod Dendropoma, a remarkable biological marker of mean sea level, of sediments aged as Last Interglacial from Fuerteventura and Lanzarote (Canary Islands, Spain), and from the Sal Island (Cape Verde). Recent Dendropoma sp. from the Sal Island and D. petraeum from Cabo de Palos (Murcia, Spain) are also utilized. Range of results generally is lower than 1 ä, both for the C and O, except for the ä18O in Cabo de Palos (2,09‰), and for the ä13C from Fuerteventura (3,57‰). Differences between ä18O shells of the Last Interglacial (LI) from Fuerteventura with respect to that of Cape Verde, if salinity do not changed, probably reflects differences of 3-4 ºC in the sea surface temperature (SST), similar to the Recent. In Sal Island, if salinity and ice-volume do not changed, the difference between SST of the LI and Recent probably was of 2 ºC.
Collections