Publication:
Revision of larvae of the dobsonfly genus Platyneuromus van der Weele (Megaloptera, Corydalidae, Corydalinae)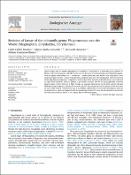 Advisors (or tutors)
Editors
Abstract
Platyneuromus van der Weele (Megaloptera, Corydalidae, Corydalinae) is a dobsonfly genus endemic to Mexico and Central America with three valid species. Its larvae or hellgrammites are exclusively aquatic, feed on aquatic invertebrates or – sometimes – small vertebrates, and inhabit lotic ecosystems, from small mountain streams to large tropical rivers, typically clean and well oxygenated. Until the present study only Platyneuromus soror (Hagen) had its larva described. Recently, dobsonfly larvae were collected in Agua Azul waterfalls, Chiapas, Mexico, a previously recorded site for the geographically restricted Platyneuromus reflexus Glorioso & Flint. Herein, we associate those larvae to the latter species through DNA barcoding comparison with adults from the site. We describe the larva of P. reflexus for the first time, as well as the larva of Platyneuromus sp. A, a probable undescribed species from mountainous areas of western Mexico; both are compared with the previously described P. soror. We also provide a key for the identification of known larvae of this poorly known dobsonfly genus.
Los megalópteros (Megaloptera, Corydalidae, Corydalinae) son insectos holometábolos, es decir, con metamorfosis completa, que datan del Pérmico (casi 300 millones de años), por lo que se consideran uno de los primeros grupos en presentar este tipo de desarrollo. Sus larvas son exclusivamente acuáticas, se alimentan de invertebrados acuáticos o, a veces, de pequeños vertebrados, y habitan en ecosistemas lóticos, desde pequeños arroyos montañosos a grandes ríos tropicales, típicamente limpios y bien oxigenados. Son considerados bioindicadores de la calidad del agua por sus necesidades de hábitat. Los megalópteros, con unas 300 especies, están clasificados actualmente en dos familias, Sialidae y Corydalidae, esta última con los ejemplares más grandes y que dan nombre al orden. Dentro de ella, Platyneuromus van der Weele (Megaloptera, Corydalidae, Corydalinae) es un género endémico de México y Centroamérica con tres especies válidas. Hasta el presente estudio, solo la especie Platyneuromus soror (Hagen) tenía su larva descrita. Recientemente, se recolectaron larvas de megalópteros en las cascadas de Agua Azul, Chiapas, México, un sitio previamente registrado para Platyneuromus reflexus Glorioso & Pedernal. A partir de ello, asociamos esas larvas a P. reflexus a través de la comparación de sus secuencias moleculares con las de los adultos de esa misma especie recolectadas en el mismo lugar. Gracias a ello, describimos por primera vez la larva de P. reflexus, así como la larva de Platyneuromus sp. A, una especie probablemente no descrita de áreas montañosas que recolectamos en el oeste de México. Como parte de esta revisión de las larvas del género, ambos se comparan con el P. soror descrito anteriormente, y se utilizan no solamente técnicas moleculares y de microscopía óptica, sino también microscopía electrónica para el análisis de la quetotaxia de las diferentes especies. También proporcionamos una clave para la identificación de larvas hasta ahora descritas de este género poco conocido de megalóptero.
Collections