Publication:
Quaternary marine terraces on Sal Island (Cape Verde archipelago)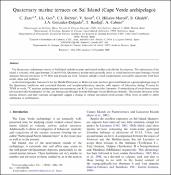 Advisors (or tutors)
Editors
Abstract
The Quaternary sedimentary record of Sal Island includes marine and related aeolian and alluvial fan deposits. The substratum of the island is volcanic, with ages between 25 and 0.6 Ma. Quaternary marine units generally occur as raised marine terraces forming a broad staircase between elevations of 55–60m and present sea level. Terraces include a basal conglomerate overlaid by calcarenite; both host corals, algae and molluscs. A chronostratigraphic framework for the Middle Pleistocene to Holocene units has been generated based on a geomorphologic map of the Quaternary landforms and associated deposits and morphosedimentary analysis, with support of laboratory dating: U-series by TIMS in corals, 14C analyses, palaeomagnetic measurements, and K/Ar ages from other literature. U-series dating of corals from marine terraces provides benchmarks for the Last Interglacial (Oxygen Isotope Substage 5e) and Holocene deposits. The present elevation of the marine terraces and their staircase arrangement suggest a change in vertical movement trend around 330 ka from an uplift to either subsidence or stabilization.
Collections