Publication:
A condition to obtain the same decision in the homogeneity testing problem from the frequentist and Bayesian point of view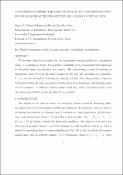 Advisors (or tutors)
Editors
Abstract
We develop a Bayesian procedure for the homogeneity testing problem of r populations using r×s contingency tables. The posterior probability of the homogeneity null hypothesis is calculated using a mixed prior distribution. The methodology consist of choosing an appropriate value of π0 for the mass assigned to the null and spreading the remainder, 1 − π0, over the alternative according to a density function. With this method, a theorem which shows when the same conclusion is reached from both frequentist and bayesian points of view is obtained. A sufficient condition under which the p-value is less than a value α and the posterior probability is also less than 0.5 is provided.
Collections