Publication:
Self-Assembly of Au-Fe3O4 Hybrid Nanoparticles Using a Sol–Gel Pechini Method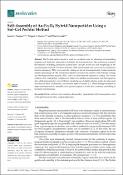 Advisors (or tutors)
Editors
Abstract
The Pechini method has been used as a synthetic route for obtaining self-assembling magnetic and plasmonic nanoparticles in hybrid silica nanostructures. This manuscript evaluates the influence of shaking conditions, reaction time, and pH on the size and morphology of the nanostructures produced. The characterization of the nanomaterials was carried out by transmission electron microscopy (TEM) to evaluate the coating and size of the nanomaterials, Fourier-transform infrared spectroscopy (FT-IR) transmission spectra to evaluate the presence of the different coatings, and thermogravimetric analysis (TGA) curves to determine the amount of coating. The results obtained show that the best conditions to obtain core–satellite nanostructures with homogeneous silica shells and controlled sizes (<200 nm) include the use of slightly alkaline media, the ultrasound activation of silica condensation, and reaction times of around 2 h. These findings represent an important framework to establish a new general approach for the click chemistry assembling of inorganic nanostructures.
Collections