Publication:
Análisis tectónico de los mapas de anomalía gravimétrica de la Cuenca de Málaga (Cordillera Bética Occidental)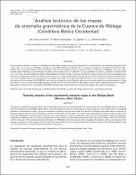 Advisors (or tutors)
Editors
Publisher
Instituto Geológico y Minero de España
Abstract
En el presente trabajo se muestra el análisis tectónico de los mapas de anomalía gravimétrica resultado de una campaña gravimétrica llevada a cabo en la Cuenca de Málaga, situada en la Cordillera Bética Occidental. En los mapas realizados se interpreta la presencia significativa de cuerpos peridotíticos en profundidad, entre los que destaca el que se encuentra bajo los Montes de Málaga, con gran continuidad lateral. Además, queda reflejado el fuerte control estructural con dirección E-O que presenta la cuenca, que estuvo condicionada por un corredor de fallas dextrales desde el Burdigaliense Inferior hasta el Tortoniense Inferior. A favor de este corredor se desplazó hacia el Oeste un segmento cortical que incluía gran parte de la masa de peridotitas existentes en la zona y que ahora quedan marcadas por dos máximos gravimétricos en los mapas de anomalía de carácter más regional. Posteriormente, con el cambio en la dirección de esfuerzos máximos horizontales a NNO-SSE, el movimiento en dirección de las fallas de este corredor quedó prácticamente bloqueado, y la falla del límite sur de la Cuenca de Málaga empezó a actuar como una falla inversa de alto ángulo controlando la sedimentación de la cuenca. Bajo estas condiciones de compresión NNO-SSE se desarrolla la actividad post-miocena del pliegue de la Sierra de Cártama.
The tectonic analysis of the gravimetric anomalies maps resulting from the gravimetric survey carried out in the Malaga Basin (located on the Internal Zone of the Western Betic Chain, southern Spain) are shown in this paper. In these maps it can be observed the remarkable presence of peridotites in deep. The most important ultramafic body is sited under the Montes de Malaga with wide lateral continuity. A strong structural control in E-W direction is marked in the maps for the basin. This basin was controled by a dextral faults corridor from the Lower Budigalian until the Lower Tortonian. A crustal segment, which included the main part of the peridotites body was displaced westward by these corridor, as it can be deduced from the maximum gravimetric anomalies map of the whole region. After the Tortonian, with the change in the regional shotening direction to NNW-SSE, the strike-slip became progresivelly blocked, with an increasing of the reverse component of the existing faults. Under this stress field, the main fault bounding the southern border of the Malaga Basin works as a reverse fault and controls the sedimentation in the basin.
Collections