Publication:
UV dust attenuation in normal star-forming galaxies. I. Estimating the L_TIR/L_FUV ratio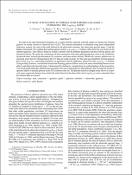 Advisors (or tutors)
Editors
Publisher
American Astronomical Society
Abstract
We analyze the dust attenuation properties of a volume-limited, optically selected sample of normal star-forming galaxies in nearby clusters as observed by GALEX. The internal attenuation is estimated using three independent indicators, namely, the ratio of the total infrared to far-ultraviolet emission, the ultraviolet spectral slope β, and the Balmer decrement. We confirm that normal galaxies follow a L_TIR/L_FUV-β relation offset from the one observed for starburst galaxies. This offset is found to weakly correlate with the birthrate parameter and thus with the galaxy star formation history. We study the correlations of dust attenuation with other global properties, such as the metallicity, dynamical mass, ionized gas attenuation, Hα emission, and mass surface density. Metal-rich, massive galaxies are, as expected, more heavily extinguished in the UV than are small systems. For the same gas metallicity normal galaxies have lower L_TIR/L_FUV ratios than starbursts, in agreement with the difference observed in the L_TIR/L_FUV-β relation. Unexpectedly, however, we find that normal star-forming galaxies follow exactly the same relationship between metallicity and ultraviolet spectral slope β determined for starbursts, complicating our understanding of dust properties. This result might indicate a different dust geometry between normal galaxies and starbursts, but it could also be due to aperture effects eventually present in the IUE starbursts data set. The present multiwavelength study allows us to provide some empirical relations from which the total infrared to far-ultraviolet ratio (L_TIR/L_FUV) can be estimated when far-infrared data are absent.
Description
© 2006. The American Astronomical Society. All rights reserved. We thank an unknown referee for her/his useful comments, which helped us to improve and strengthen the paper. We wish to thank Christian Bonfanti, Jorge Iglesias Páramo, Paolo Franzetti, Akio K. Inoue, and Gerry Sanvito for useful discussions. GALEX is a NASA Small Explorer, launched in 2003 April. We gratefully acknowledge NASA's support for construction, operation, and science analysis for the GALEX mission, developed in cooperation with the Centre National d'Etudes Spatiales of France and the Korean Ministry of Science and Technology. This research has made extensive use of the GOLDMine Database and of the NASA/IPAC Extragalactic Database (NED), which is operated by the Jet Propulsion Laboratory, California Institute of Technology, under contract with the National Aeronautics and Space Administration. The authors would like to take this opportunity to thank the members of the GALEX SODA Team for their valiant efforts in the timely reduction of the complex observational data set covering the full expanse of the Virgo cluster.
Citation
Abazajian, K., et al. 2005, AJ, 129, 1755 Alton, P. B., Xilouris, E. M., Bianchi, S., Davies, J., & Kylafis, N. 2000, A&A, 356, 795 Alton, P. B., et al. 1998, A&A, 335, 807 Bell, E. F. 2002, ApJ, 577, 150 Bell, E. F., & Kennicutt, R. C. 2001, ApJ, 548, 681 Binggeli, B., Sandage, A., & Tammann, G. A. 1985, AJ, 90, 1681 Boissier, S., Boselli, A., Buat, V., Donas, J., & Milliard, B. 2004, A&A, 424, 465 Boissier, S., et al. 2005, ApJ, 619, L83 Boselli, A., & Gavazzi, G. 2002, A&A, 386, 124 Boselli, A., Gavazzi, G., Donas, J., & Scodeggio, M. 2001, AJ, 121, 753 Boselli, A., Gavazzi, G., & Sanvito, G. 2003, A&A, 402, 37 Boselli, A., Iglesias Páramo, J., Vílchez, J. M., & Gavazzi, G. 2002a, A&A, 386, 134 Boselli, A., Lequeux, J., & Gavazzi, G. 2002b, A&A, 384, 33 Buat, V. 1992, A&A, 264, 444 Buat, V., Boselli, A., Gavazzi, G., & Bonfanti, C. 2002, A&A, 383, 801 Buat, V., Donas, J., Milliard, B., & Xu, C. 1999, A&A, 352, 371 Buat, V., & Xu, C. 1996, A&A, 306, 61 Buat, V., et al. 2005, ApJ, 619, L51 Burgarella, D., Buat, V., & Iglesias Páramo, J. 2005, MNRAS, 360, 1413 Burstein, D., & Heiles, C. 1982, AJ, 87, 1165 Calzetti, D. 1997, AJ, 113, 162 ———. 2001, PASP, 113, 1449 Calzetti, D., Bohlin, R. C., Kinney, A. L., Storchi-Bergmann, T., & Heckman, T. M. 1995, ApJ, 443, 136 Calzetti, D., Kinney, A. L., & Storchi-Bergmann, T. 1994, ApJ, 429, 582 Calzetti, D., et al. 2005, ApJ, 633, 871 Caplan, J., & Deharveng, L. 1986, A&A, 155, 297 Charlot, S., & Fall, S. M. 2000, ApJ, 539, 718 Charlot, S., & Longhetti, M. 2001, MNRAS, 323, 887 Colless, M., et al. 2001, MNRAS, 328, 1039 Contursi, A., et al. 2001, A&A, 365, 11 Dale, D. A., Helou, G., Contursi, A., Silbermann, N. A., & Kolhatkar, S. 2001, ApJ, 549, 215 Devereux, N. A., & Young, J. S. 1990, ApJ, 359, 42 Dutil, Y., & Roy, J. 1999, ApJ, 516, 62 Gavazzi, G., Bonfanti, C., Sanvito, G., Boselli, A., & Scodeggio, M. 2002a, ApJ, 576, 135 Gavazzi, G., Boselli, A., Donati, A., Franzetti, P., & Scodeggio, M. 2003, A&A, 400, 451 Gavazzi, G., Boselli, A., Pedotti, P., Gallazzi, A., & Carrasco, L. 2002b, A&A, 386, 114 Gavazzi, G., Boselli, A., Scodeggio, M., Pierini, D., & Belsole, E. 1999, MNRAS, 304, 595 Gavazzi, G., Catinella, B., Carrasco, L., Boselli, A., & Contursi, A. 1998, AJ, 115, 1745 Gavazzi, G., Franzetti, P., Scodeggio, M., Boselli, A., & Pierini, D. 2000, A&A, 361, 863 Gavazzi, G., Pierini, D., & Boselli, A. 1996, A&A, 312, 397 Gavazzi, G., Zaccardo, A., Sanvito, G., Boselli, A., & Bonfanti, C. 2004, A&A, 417, 499 Gavazzi, G., et al. 2005, A&A, 430, 411 ———. 2006, A&A, in press Glazebrook, K., Blake, C., Economou, F., Lilly, S., & Colless, M. 1999, MNRAS, 306, 843 Gordon, K. D., Clayton, G. C., Witt, A. N., & Misselt, K. A. 2000, ApJ, 533, 236 Heckman, T. M., Robert, C., Leitherer, C., Garnett, D. R., & van der Rydt, F. 1998, ApJ, 503, 646 Helou, G., Khan, I. R., Malek, L., & Boehmer, L. 1988, ApJS, 68, 151 Iglesias Páramo, J., Boselli, A., Cortese, L., Vílchez, J. M., & Gavazzi, G. 2002, A&A, 384, 383 Iglesias Páramo, J., Boselli, A., Gavazzi, G., & Zaccardo, A. 2004, A&A, 421, 887 Inoue, A. K. 2003, PASJ, 55, 901 Isobe, T., Feigelson, E. D., Akritas, M. G., & Babu, G. J. 1990, ApJ, 364, 104 Issa, M. R., MacLaren, I., & Wolfendale, A. W. 1990, A&A, 236, 237 Kauffmann, G., et al. 2003, MNRAS, 346, 1055 Kennicutt, R. C. 1983, ApJ, 272, 54 ———. 1992, ApJ, 388, 310 Kennicutt, R. C., Tamblyn, P., & Congdon, C. E. 1994, ApJ, 435, 22 Kewley, L. J., & Dopita, M. A. 2002, ApJS, 142, 35 Kewley, L. J., Geller, M. J., Jansen, R. A., & Dopita, M. A. 2002, AJ, 124, 3135 Kewley, L. J., Jansen, R. A., & Geller, M. J. 2005, PASP, 117, 227 Kong, X., Charlot, S., Brinchmann, J., & Fall, S. M. 2004, MNRAS, 349, 769 Laird, E. S., Nandra, K., Adelberger, K. L., Steidel, C. C., & Reddy, N. A. 2005, MNRAS, 359, 47 Leitherer, C., & Heckman, T. M. 1995, ApJS, 96, 9 Martin, D. C., et al. 2005, ApJ, 619, L1 McGaugh, S. S. 1991, ApJ, 380, 140 Meurer, G. R., Heckman, T. M., & Calzetti, D. 1999, ApJ, 521, 64 Meurer, G. R., et al. 1995, AJ, 110, 2665 Morrissey, P., et al. 2005, ApJ, 619, L7 Osterbrock, D. E. 1989, Astrophysics of Gaseous Nebulae and Active Galactic Nuclei (Mill Valley: University Science Books) Panuzzo, P., Bressan, A., Granato, G. L., Silva, L., & Danese, L. 2003, A&A, 409, 99 Seibert, M., et al. 2005, ApJ, 619, L55 Skillman, E. D., Kennicutt, R. C., & Hodge, P. W. 1989, ApJ, 347, 875 Steidel, C. C., Adelberger, K. L., Giavalisco, M., Dickinson, M., & Pettini, M. 1999, ApJ, 519, 1 Thuan, T. X., & Sauvage, M. 1992, A&AS, 92, 749 Tremonti, C. A., et al. 2004, ApJ, 613, 898 van Zee, L., Salzer, J. J., Haynes, M. P., O'Donoghue, A. A., & Balonek, T. J. 1998, AJ, 116, 2805 Wang, B., & Heckman, T. M. 1996, ApJ, 457, 645 Witt, A. N., & Gordon, K. D. 2000, ApJ, 528, 799 Xu, C., & Buat, V. 1995, A&A, 293, L65 Zaritsky, D., Kennicutt, R. C., & Huchra, J. P. 1994, ApJ, 420, 87 Zwicky, F., Herzog, E., & Wild, P. 1961, Catalogue of Galaxies and of Clusters of Galaxies ( Pasadena: Caltech)
Collections