Publication:
Análisis de las potenciales vías de entrada de la especie exótica invasora "Myiopsitta monachus" al campus de Moncloa. Evaluación multiescalar de la conectividad espacial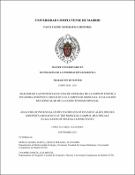 Authors
Advisors (or tutors)
Editors
Abstract
El presente estudio propone la modelización de las potenciales vías de entrada de la especie exótica invasora Myiopsitta monachus al campus de Moncloa desde la Casa de Campo, considerada el principal núcleo reproductor de la especie en Madrid. El objetivo principal del trabajo es diseñar una metodología que pueda ser integrada en el Plan Estratégico de Infraestructura Verde y Biodiversidad, competencia de las autoridades del Campus de la UCM, facilitando la implantación de estrategias de prevención y control frente a la presencia y expansión de esta especie exótica considerada invasora. Para ello, se ha utilizado la herramienta "Corridor Designer", integrable en ArcGIS y específicamente diseñada para la construcción de corredores ecológicos que simulan el flujo de especies entre dos o más espacios geográficos
This study proposes the modelling of the potential entry pathways of the invasive alien species Myiopsitta monachus to the Moncloa campus from the Casa de Campo, considered the main breeding site of the species in Madrid. The main objective of the work is to design a methodology that can be integrated into the Strategic Plan for Green Infrastructure and Biodiversity, which is the responsibility of the authorities of the UCM Campus, and serve as a possible strategy for preventing the presence and expansion of this species, which is considered invasive. To this end, the "Corridor Designer" tool has been used, which is an ArcGIS extension specifically designed for the construction of ecological corridors that simulate the flow of species between two or more geographical spaces.