Publication:
Metáforas del tiempo en la vida cotidiana: Una aproximación sociológica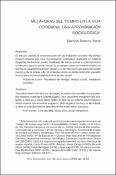 Authors
Advisors (or tutors)
Editors
Publisher
Universidad Nacional Autónoma de México. Facultad de Ciencias Políticas y Sociales. Centro de Estudios Sociológicos,
Abstract
El artículo aborda la reconstrucción de las imágenes sociales del tiempo proporcionadas por una investigación cualitativa realizada en Madrid (España). Se analizan cuatro metáforas del tiempo social: a.el tiempo como un recurso para la acción social; b.el tiempo como un entorno externo al que ha de adaptarse la acción social; c.el tiempo como una parte del propio cuerpo o de la propia vida; d.el tiempo como un doble horizonte (pasado/futuro) para la intencionalidad de la acción social.
The article deals with time social images reconstruction provided by a qualitative research made up in Madrid (Spain). Four social time metaphors are analyzed: a.time as a social action option, b.time as an external environment to which social action should be adapted; c.time as part of the body or life in itself; d.time as a double horizon (past/future) for social action purposes.
Collections