Publication:
Contact-dependent effects and tunneling currents in DNA molecules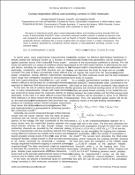 Advisors (or tutors)
Editors
Publisher
American Physical Society
Abstract
We report on theoretical results about contact-dependent effects and tunneling currents through DNA molecules. A tetranucleotide PolyGACT chain, connected in between metallic contacts, is studied as a generic case, and compared to other periodic sequences such as PolyAT or PolyGC. Remarkable resonance conditions are analytically derived, indicating that a strong coupling does not always result in a larger conductance. This result is properly illustrated by considering intrinsic features of bias-dependent tunneling currents in the coherent regime.
Description
©2005 The American Physical Society. This work was partly supported by UCM through Project No. PR3/04-12450, the Ministerio de Educación y Ciencia through Project No. FIS2004-00067, the consejería de Educación de la CAM and European Union FEDER through Project No. GR/MAT/0768/2004.
Collections