Publication:
Renormalization algorithm for the calculation of spectra of interacting quantum systems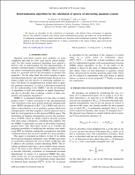 Advisors (or tutors)
Editors
Publisher
American Physical Society
Abstract
We present an algorithm for the calculation of eigenstates with definite linear momentum in quantum lattices. Our method is related to the density matrix renormalization group, and makes use of the distribution of multipartite entanglement to build variational wave functions with translational symmetry. The algorithm is applied to the study of bilinear-biquadratic S=1 chains, in particular to the region of phase space between the dimerized and ferromagnetic phases.
Description
©2006 The American Physical Society. We thank M. A. Martín Delgado, G. Ortiz, E. Demler, E. Altmann, and S. Montangero, for interesting discussions. The work was supported by DFG (SFB 631), European projects, Bayerischen Staatsregierung Quanteninformation, MEIF-CT-2004-010350, and the Gordon and Betty Moore Foundation (the Information Science and Technology Initiative, Caltech).
Collections